Helping your child excel with Geniebook Chinese
24 May 2022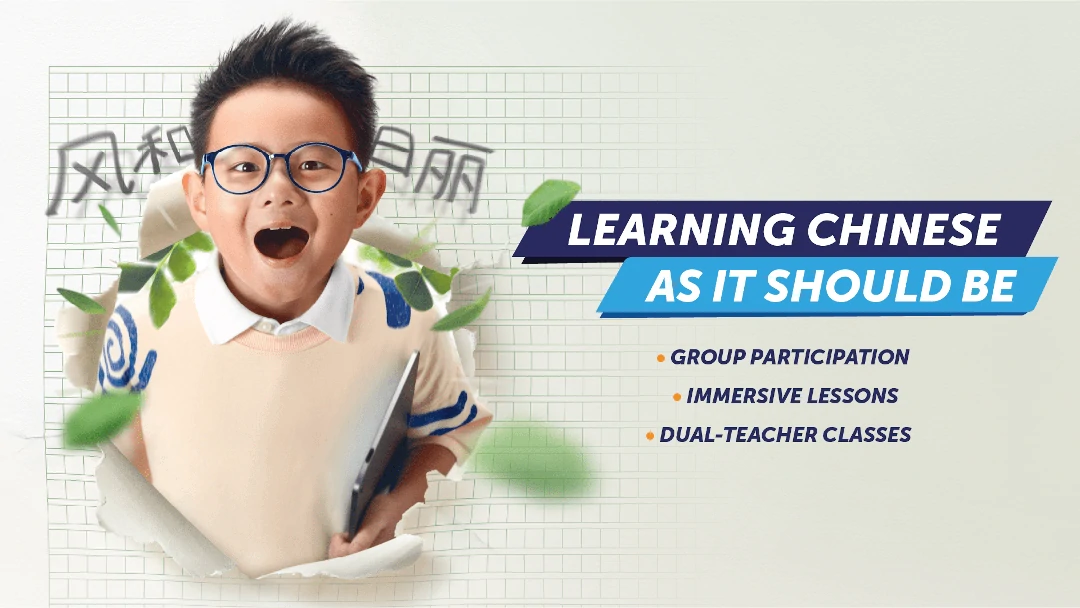 In Singapore's education system, all students are required to learn both English and a mother tongue language, such as Chinese. But for some of them, it can be difficult to master a language, let alone two at the same time.
In the case of Chinese specifically, there's over a few thousand characters to memorise, various pronunciations and intonations to learn, and even pages of idioms to absorb over the course of one's school life. Those of us who were never good enough in Chinese would remember the agony of mugging for our Chinese exams, along with the constant fear and self-doubt that we would always do poorly in them no matter how hard we tried.
Luckily for our children, the advancement of technology and pedagogy has meant that learning Chinese is no longer quite as hard. And with Geniebook Chinese – our latest addition to our list of offered subjects, we have combined the best of both worlds in one comprehensive package.
Learning from the best: Geniebook's Chinese teachers
Geniebook's Chinese department is headed by a team of passionate educators, who collectively possess teaching qualifications from renowned universities as well as from Singapore's National Institute of Education (NIE). In addition, each of them have also had several years of teaching experience prior to joining Geniebook.
Most importantly, our teachers are chosen because they all share the same approach to education: they believe that true, engaging learning is key to succeeding in one's studies, and it is through sparking interest and inducing motivation that students can experience that sort of learning.
With their depth of experience and drive to teach students the elegance and beauty of the Chinese language through engaging learning, they are the perfect mentors to help your child learn smarter and do better.
The three defining features of Geniebook Chinese
Geniebook debuts three unique features specially for its Chinese language subject to help make the online learning process more effective for students:
Dual-Teacher Classes, which are always presented with a lively and light-hearted atmosphere,
Immersive Lessons, where students can master key examinable words, and
Small Group Tutorials, which allows students the opportunity to practise their oratorical skills through roleplaying and other engaging activities.
Dual-Teacher Classes
Learning Chinese online can sometimes be a boring experience; with the same teacher droning on for hours in every lesson, even the most attentive student may find themselves drifting off. But it doesn't have to be that way.
Each Dual-Teacher Class in Geniebook Chinese is led by not one, but two native-speaking Chinese teachers, who make it their mission to pique students' interests by injecting humour and lightheartedness in their lessons through lively banter and quizzes.
Their animated exchanges serve dual purposes: to make learning a positive and engaging experience, and more importantly, to demonstrate proper spoken Mandarin, allowing students to better grasp the language through listening and following along with their two teachers.
Immersive Lessons
Everyone loves a good story. Sometimes, it's much easier to remember details in a story that has been read once, than to absorb pages of study material even after going through them several times.
Now, imagine expanding your child's Chinese vocabulary by letting them listen to a captivating story about the Monkey King. Not only does it make for an interesting and fun learning session, it also grabs the students' attention and encourages them to keep learning as they go.
Our teachers behind Geniebook Chinese are vastly familiar with the advantage of Immersive Learning, and have come together to create entire lesson plans that pull your child into a world of engaging story-based lessons that incorporate elements of Chinese culture, simultaneously teaching new words and idioms while keeping their attention through vibrant characters and fantastic tales.
Small Group Tutorials
It's easy for students in online classes to become overlooked, due to the size of the class and their inability to interact with the teacher directly. When it comes to studying a language like Chinese where constant practice and guidance is key to improvement, these shortcomings can become increasingly apparent over time.
Geniebook Chinese recognises the importance of interactivity, which is why we have introduced a whole new type of lesson format just for the subject.
Known as 'Small Group Tutorials', each of these sessions are deliberately designed to accommodate a maximum of four students total, with each session headed up by a teacher. The use of webcams and microphones is allowed and strongly encouraged here, so that students can respond to questions, participate in discussions and quizzes, and freely interact with their peers in Mandarin.
Tutorials are also unique in that they incorporate elements of roleplaying in various activities, giving students the chance to practise their oratorical skills. This instils confidence and improves their grasp of the language, which will pay dividends in their future oral exams.
With Dual-Teacher Classes, Immersive Lessons, and Small Group Tutorials, your child will receive everything they need to excel.
In a nutshell, it's learning Chinese as it should be.
Looking for a fresh new way to help your child with their Chinese? Click the link below to start their new learning journey today.