The fascinating world of digestion: Fun facts and insights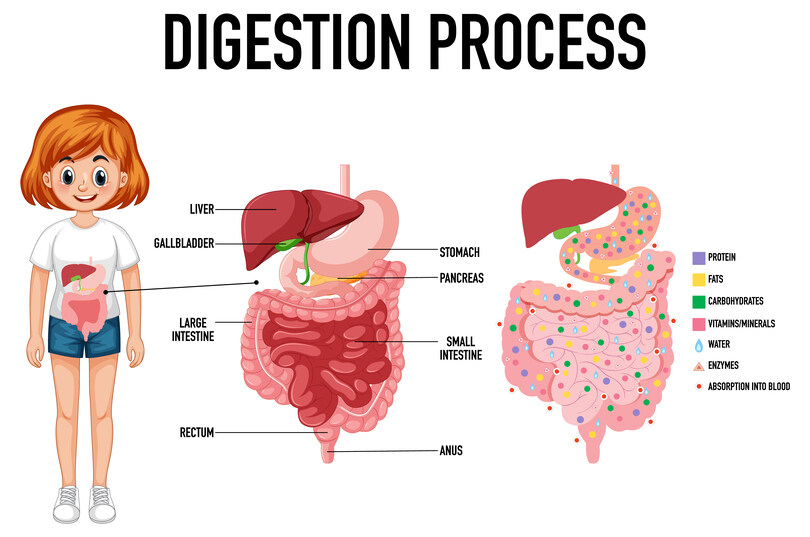 The digestive system is made up of different parts, including the mouth, esophagus, stomach, small intestine, large intestine, rectum, and anus. These parts work together to break down the food we eat and take out the nutrients we need.
Enzymes in digestion
Enzymes are like little helpers in your stomach that help break down the food you eat into smaller pieces. Think of them as tiny scissors that cut your food into tiny bits so your body can use them for energy and growth.
There are different types of enzymes that help break down different types of food. For example, there is an enzyme called 'amylase' that helps break down carbohydrates, like bread and pasta, while another enzyme called 'protease' helps break down proteins, like meat and eggs.
When you eat, your body releases these enzymes into your stomach and small intestine to help break down the food. Once the food is broken down into small pieces, your body can absorb it and use it for energy and to help you grow strong and healthy.
Saliva
Saliva is a watery fluid in the mouth that helps us chew and swallow food more easily. It contains enzymes that start breaking down carbohydrates in the mouth.
The stomach
The stomach is a muscular bag that holds food and liquid. It churns and mixes food with digestive juices, which break down the food. The stomach also makes acid that helps break down proteins and kill harmful germs.
The liver and pancreas
The liver and pancreas are two organs that help in digestion. The liver makes bile, which breaks down fats, and the pancreas makes digestive enzymes that break down carbohydrates, proteins, and fats.
The intestines
The small intestine is where most of the nutrients are taken out of the food and into the body. It has tiny finger-like parts called 'villi', which help to absorb the nutrients. The large intestine takes out water and minerals from the food before it leaves the body.
If you want to learn more about digestion, you can check out our detailed P3 digestive system study notes here.
Here's how this topic was covered in GenieClass.
Click here to know more about GenieClass and how it can help students understand each topic in detail and improve their grades.
Fun facts about digestion
Now that we have covered the basic anatomy of the digestive system, let's take a look at some fun facts.
The average person produces about 2 pints of saliva a day. That's enough to fill a small bottle of soda!
The small intestine is approx. 22 feet long. If we were to lay it in a straight line, it would be about as long as a school bus.
It takes around 6-8 hours for food to pass through the stomach and small intestine. The exact time can vary depending on factors such as the type of food eaten and the individual's digestive system.
The large intestine is around 5 feet long. That's about the length of a tall adult.
The muscles in the small intestine are constantly moving, which helps to push food along. This movement is known as 'peristalsis'.
The smell of food can cause the stomach to start producing digestive juices, even before the food has been eaten. This is why you might start to salivate when you smell something delicious cooking in the kitchen.
The human gut contains trillions of bacteria, which play an important role in digestion and overall health. These bacteria, collectively known as the gut microbiome, help to break down food, produce vitamins, and regulate the immune system.
Our gut bacteria can directly talk to our brain through what is known as the "brain-gut axis." So, the next time you crave pizza or ice cream, it may not necessarily be due to hunger, but rather because your gut bacteria are signalling those particular food cravings.
Fun facts about digestion in other animals
While humans have a complex digestive system, we are not the only animals with interesting digestive processes. Here are some fun facts about digestion in other animals:
Cows have four stomachs, which help them to break down tough plant matter.
Crocodiles can go months without eating, thanks to their slow metabolism and the ability to store food in their stomachs.
Koalas are known for their unique diet of eucalyptus leaves, which are tough and low in nutrients. To extract as much nutrition as possible, koalas have a longer-than-average digestive tract and special bacteria in their stomachs that can break down the eucalyptus leaves.
Snakes can swallow prey that is much larger than their heads thanks to their flexible jaws and stretchy stomachs. Some snakes can go weeks or even months between meals.
The digestive system is an incredible, complex, and essential part of our bodies. From the moment we take a bite of food, a series of intricate processes take place to break down the food into nutrients that can be used by our cells. From enzymes and saliva to the stomach, liver, pancreas, and intestines, each part of the digestive system plays an important role in this process. Whether it's the length of the small intestine or the fact that cows have four stomachs, there are plenty of fun facts to learn about digestion. By understanding more about this amazing system, we can appreciate the wonders of the human body and the natural world around us.
(Digestive process image by brgfx on Freepik)
---
Read Learn about the digestive system with these fun Science games next!