Adaptations In Plants
In this article, you will be introduced to adaptations in plants based on the Singapore Primary 6 Science Syllabus. We will focus on the following three main aspects:
Adaptations for obtaining sunlight
Adaptations for reproducing
Adaptations for coping with harsh conditions
Adaptations
Adaptations are changes or modifications in the characteristics of an organism that help it to better survive and thrive in its environment. Plants that are adapted to the natural habitat can cope with physical factors of the environment such as temperature and light, protect themselves from predators and reproduce effectively to ensure continuity of their own kind.
Adaptations For Obtaining Sunlight
Sunlight is an essential component for photosynthesis, the process by which plants make their food. To obtain sunlight, plants have adapted in different ways. Land plants, such as trees and shrubs, have evolved to grow taller to reach the sun. Their leaves are often arranged in a way that they can capture the maximum amount of light possible. This adaptation allows them to photosynthesize efficiently and produce the energy they need to survive.
Some land plants do not have strong stems that allow themselves to stand upright. In order to obtain more sunlight, some plants climb up support to reach higher heights by either twining their stems around support, using their clasping roots to hold onto support, having tendrils that coil around support or using their thorns to attach themselves onto neighbouring plants.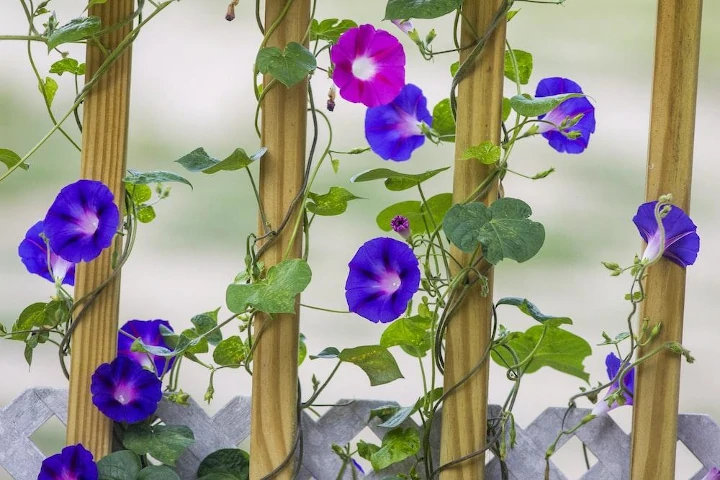 Image Credit: Gary Fultz - Unsplash - Morning glory plant with a weak stem that twines around support
There are also land plants with weak stems but are not adapted for climbing. These plants spread themselves on the ground to cover a wide area to receive more sunlight, and are known as creepers. An example of such plants is the sweet potato plant.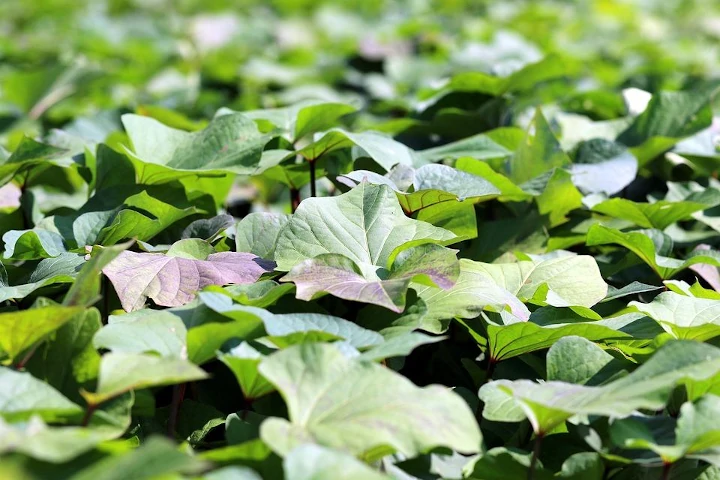 Image Credit: manseok_Kim Pixabay - Sweet potato plant spreading itself on the ground
On the other hand, aquatic plants face a different challenge in obtaining sunlight. In the underwater environment, light is often scarce. To overcome this, many aquatic plants have developed adaptations to allow their leaves to be exposed to sunlight. Floating plants have leaves that are waxy or hairy to prevent accumulation of water on their leaves, thus preventing their leaves from sinking into water. Some floating plants have swollen leaf stalks that trap air to allow them to remain buoyant in water.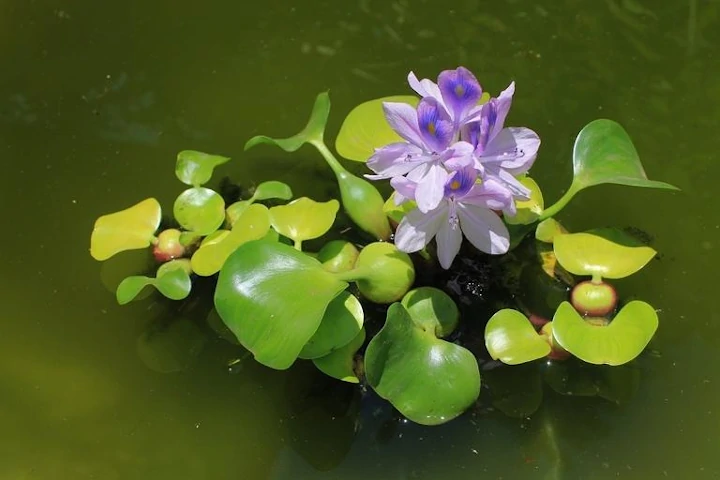 Image Credit: mayapujiati - Pixabay - Water hyacinth with swollen leaf stalks that trap air
Some partially-submerged aquatic plants, such as the water lily, have large and flat leaves grow above the surface of water, allowing it to obtain sunlight for photosynthesis. The stomata of such leaves may be found mostly on the upper side of the leaves to facilitate gaseous exchange with the surroundings. Submerged plants such as elodea and hydrilla usually have air spaces in their leaves and stems that help to hold their stems in an upright position, thus allowing them to receive more light for photosynthesis.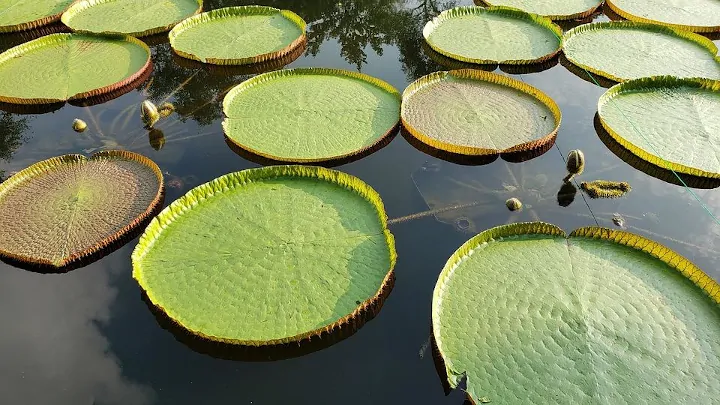 Image Credit: MLbay - Pixabay - Lotus leaves with large surface area growing above the water surface
Adaptations For Reproducing
Plants also have unique adaptations for reproduction to help in the processes of pollination and seed dispersal. We have learnt about the different characteristics of animal-pollinated and wind-pollinated flowers, together with the characters of fruits and seeds that are dispersed by the various methods in Primary 5 Science.
Flowering plants that are pollinated by animals usually have flowers with large and colourful petals to attract animals. Some of these animal-pollinated flowers are scented and may contain nectar. The anthers and sticky stigma of animal-pollinated flowers are usually found within the petals.
On the other hand, wind-pollinated flowers have small and dull petals and are not scented. The anthers hang outside the petals so that pollen grains can be easily shaken free and carried by the wind, and the stigma is large and feathery to provide a wider surface area for it to receive pollen grains carried by the wind more easily.

Image Credit: purebiologyrs - Wind-pollinated flower of grass with feathery stigma
The seeds of flowering plants need to be dispersed far away from the parent plant and from each other in order to prevent overcrowding and reduce competition for space, sunlight, nutrients and water. This allows the seeds to grow into young plants at places where conditions are more favourable.
Some plants have seeds that are light and have special structures such as tiny soft hairs or wing-like structures. These features allow the seeds to be caught by the wind and remain airborne for a longer period of time, thus the seeds can be carried by the wind and be dispersed over a large area far away from the parent plant.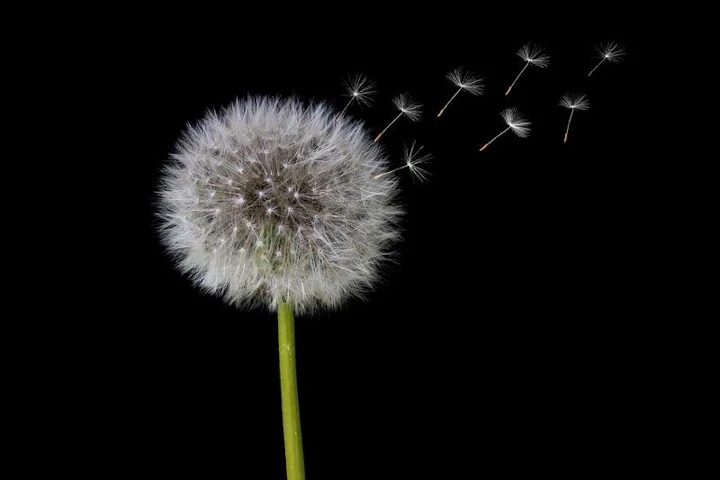 Image Credit: HG-Fotographie - Pixabay – Dandelion seeds with tiny soft hairs
Some flowering plants such as the rubber tree have fruit pods that split open with a sudden explosive force when the fruits are ripe, scattering their seeds a short distance away from the parent plant. Certain flowering plants such as the coconut tree have fruits with waterproof outer coverings and fibrous husks that allow them to stay buoyant, hence the fruits can be dispersed by water.
Fruit from some flowering plants, such as the papaya and apple trees, have sweet and fleshy fruits that attract animals to consume them. In the process of doing so, the animals will swallow the small, indigestible seeds which will then be passed out in the animals' solid waste when they move away from the parent plant.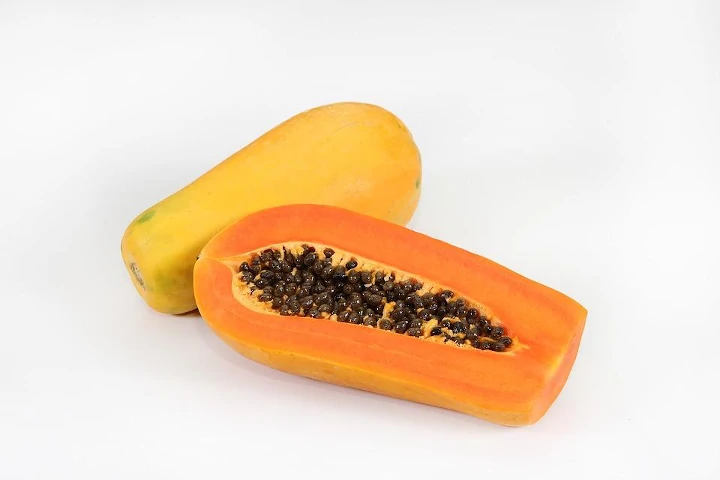 Image Credit: varintorn - Pixabay - Fleshy papaya fruit with many small, indigestible seeds
Adaptations For Coping With Harsh Conditions
Certain plants have special adaptations that allow them to cope with the harsh conditions in their natural habitats.
The cactus plant is commonly found in deserts where there is very little water. To allow it to survive in such hot and dry environments, the cactus plant has needle-like leaves that reduce water loss and serve as protection against animals that might want to consume it to obtain water. In addition, it has a waxy, thick and succulent stem that stores water and carries out photosynthesis. On top of that, the cactus plant has fibrous roots that are shallow and spread out for it to absorb water quickly when it rains.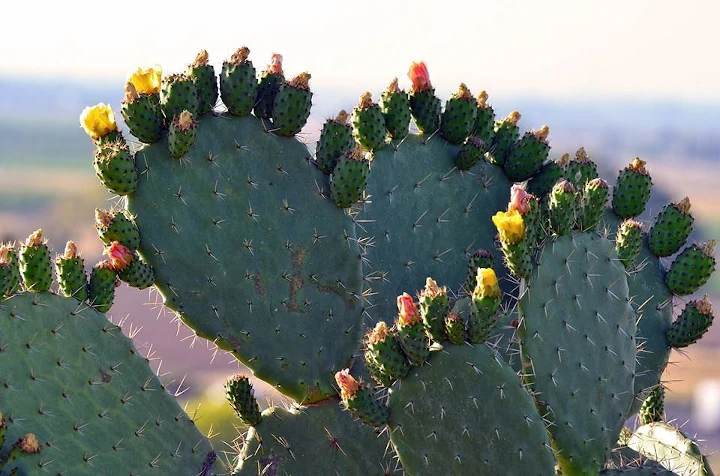 Image Credit: moshehar - Pixabay - Cactus plant with needle-like leaves and thick succulent stem
Mangrove trees grow along the coast where the soil has low oxygen content and where the water has high salt content. Moreover, the lower parts of the mangrove trees are submerged during high tides. To cope with these conditions, the mangrove trees usually have thick, waxy leaves which minimise water loss through their stomata. Some types of mangroves have roots that can block the intake of salt whereas other types have salt glands on leaves which enable them to secrete salt crystals. Mangrove trees also have roots that stick out from the ground to allow them to obtain oxygen from the surrounding air.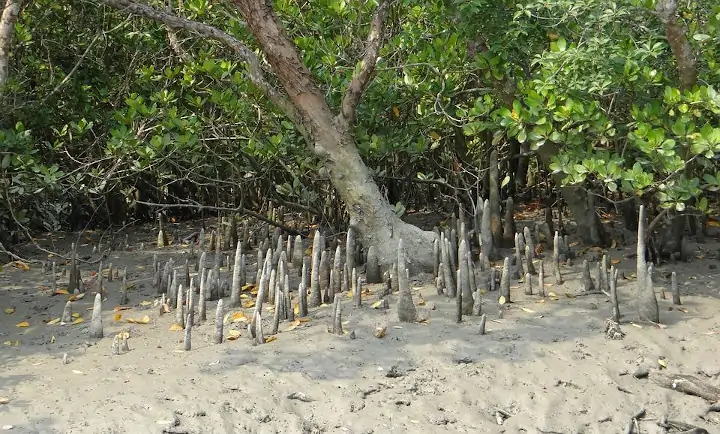 Image Credit: sarangib - Pixabay - A type of mangrove tree with cone roots that stick out from the ground
Conclusion
In conclusion, adaptation is a crucial process that enables plants to survive and thrive in different environments. From reaching higher to obtain more sunlight to dispersing their seeds via different methods, plants have developed a wide range of adaptations that allow them to overcome the challenges of their environment. By understanding these adaptations, we can better appreciate the amazing diversity of plant life in the world.
Test Yourself
QUESTION 1/5
The diagram below shows a plant. Part X of the plant is thick, green and waxy.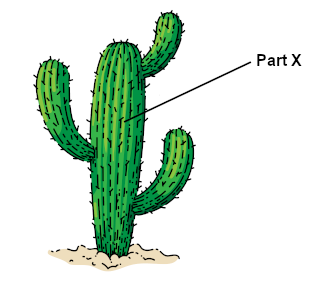 Which of the following shows how Part X helps the plant to survive in a desert?

1: It helps to make food.
2: It helps to store water.
3: It helps to reduce water loss.
4: It helps to anchor the plant firmly to the soil.

Choose the correct option
Explanation
The stem of the cactus is green as the cells there contain chloroplasts that allow them to make food. The succulent stem stores water for the cactus plant, and its waxy coating helps to reduce water loss.
QUESTION 2/5
The diagram below shows examples of adaptations of plants G, H, J and K.





Which adaptation(s) help(s) the plant to receive more water?
Explanation
G is the fibrous root system that spreads out over a wide area for the plant to obtain more water. Both H, which is thorn found on stems, and J, which is twining stem, enable the plants to reach higher heights to obtain more sunlight. K is a swollen leaf stalk containing air which allows the water plant to float on the surface of water.
QUESTION 3/5
The diagram below shows a plant with an adaptive feature labelled A.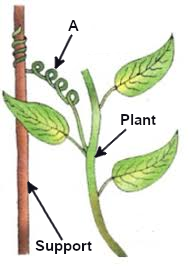 Which one of the following statements about the adaptive feature shown above is correct?

1: Part A helps the plant to absorb water.
2: Part A helps the plant to attract pollinators.
3: Part A helps the plant to reach for more sunlight.
4: Part A helps the plant to transport food and water to all parts of the plant.
Explanation
Part A is a tendril that will coil around support to allow the plant to climb higher and receive more sunlight that is needed for photosynthesis.
QUESTION 4/5
Plants that reproduce by spores may produce thousands of spores at a time. Which of the following statements explain why plants produce such a large number of spores?

1: A large number of spores will ensure dispersal by wind.
2: A large number of spores will allow the plant to cover a large area of land.
3: A large number of spores will increase the chance that a new plant is grown.
4: A large number of spores will ensure good use of energy produced during photosynthesis.

Choose the correct option

Explanation
The wind is able to carry spores away because they are small and light, not because many spores are produced.
Covering a greater area and having more spores produced increase the chances of some surviving.
QUESTION 5/5
The Ophrys orchid, as shown below, has a colour and shape that make its flowers look like female wasps, which are insects.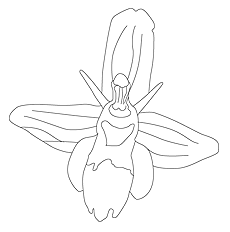 How does this adaptation help the Ophrys orchid?

1. It increases the chances of getting its flowers pollinated.
2. It increases the chances of getting its flowers dispersed.
3. It decreases the chances of its flowers being attacked by fungi.
4. It decreases the chances of its flowers withering after fertilisation.
Explanation
The attractive flower mimics an insect feeding on a flower, with a furry lip that looks like the body of a female wasp. As a result of this deception and an attractive scent, male wasps try to mate with the lip of the flower. This mimicry has been favoured by natural selection because the wasps unwittingly bring about pollination of the orchids by transferring pollen to the female parts of the next flower they visit.