Introducing some Lunar New Year traditions around the world
08 February 2022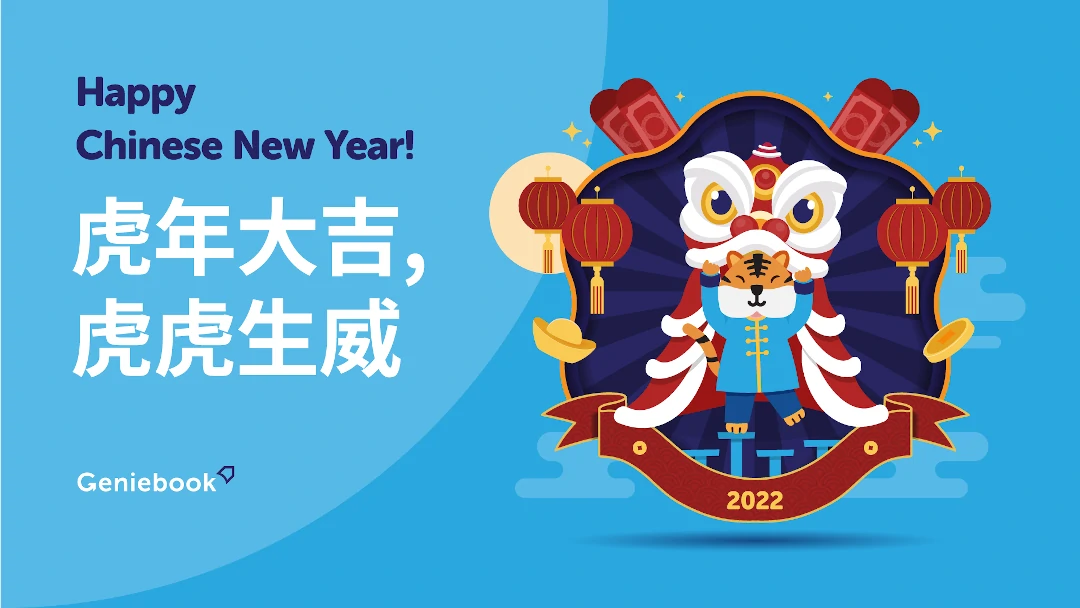 Lunar New Year is just around the corner, and Asian families all around the world are preparing for one of the biggest holidays of the year. If you're from a Chinese family in Singapore, you'll likely be involved in the preparations - spring cleaning, stocking up the fridge with lots of food, and preparing fresh new notes for red packets!
Although some Lunar New Year traditions are similar no matter which country it's celebrated in, some of them have entirely unique ones that are found nowhere else. Let's do a little world tour and see how people in the following countries are celebrating it in their own ways!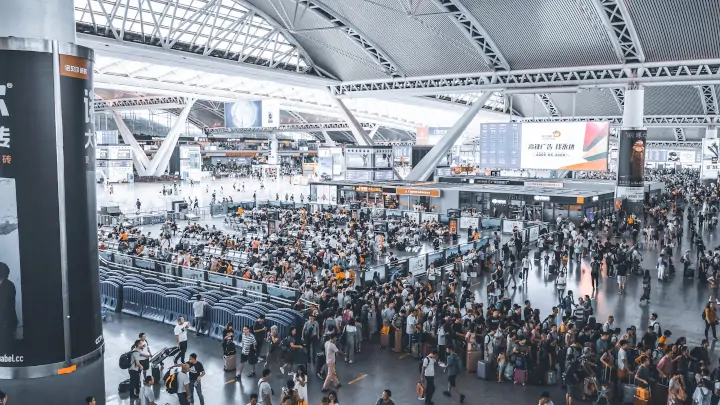 China
There's no festival more important than Chinese New Year for families in China. Starting from a month before the actual day, millions of people from every part of China make arrangements to travel back to their hometowns, where they will gather with their families for the yearly Reunion Dinner. This phenomenon is called 'Chunyun', and is awe-inspiring to see in person, especially in the overcrowded train stations in every city.
Another interesting quirk of the Chinese New Year celebrations in China is the yearly broadcast of the New Year Gala on CCTV, the country's television network. One can always count on two things: that the show is sure to be a grand spectacle, and that millions of families in China will be tuning in together to watch the live telecast.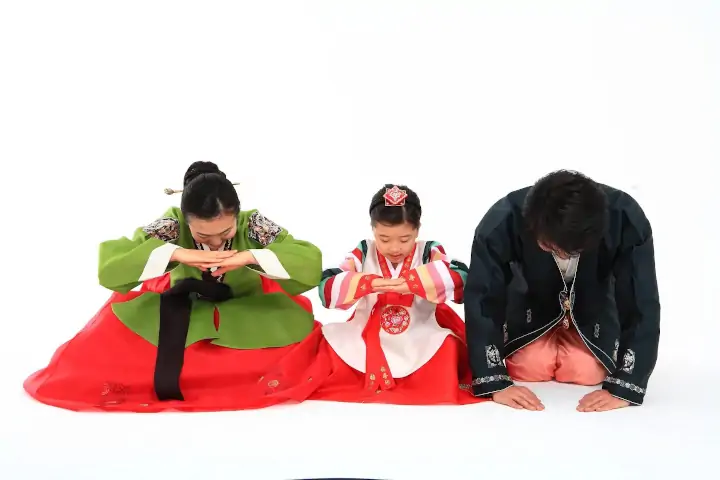 South Korea
South Korea's version of the Lunar New Year is called Seollal (설날). As with the other variants of Lunar New Year, it's a very family-oriented celebration; reconnecting with family members and honouring one's elders and ancestors is expected.
In fact, respecting one's senior family members is so important that central to Seollal is the undertaking of Sebae by the younger generations. Also known as the New Year's Bow, the Sebae is a ceremony performed to receive blessings and a token sum of money (sebaedon), which is stored in a special pouch called a bokjumeoni.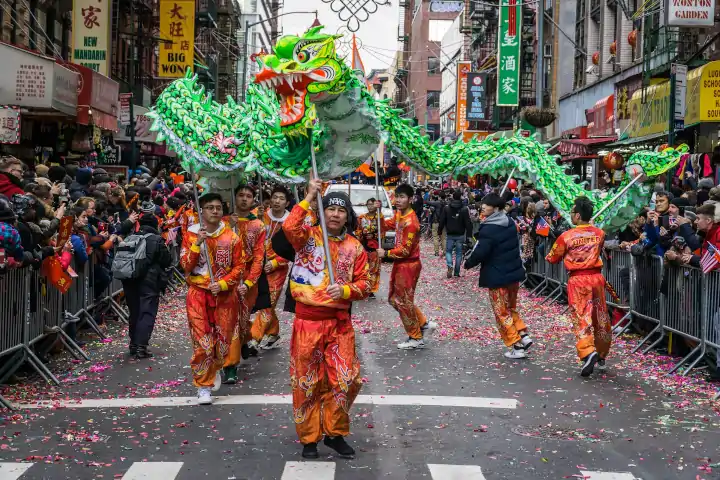 USA
As a melting pot of cultures all over the world, Lunar New Year is observed by Asian communities in various parts of the country. In fact, the large Chinese community in San Francisco makes extra effort in carrying out celebrations, coming together each year to hold the Chinese New Year Parade.
Ranked as one of the Top 10 parades in the world, the Chinese New Year Parade has everything from lion and dragon dance troupes, firecrackers, 'Gods of Fortune' and more besides. Over the years, the parade has evolved to become an extended celebration with events lasting for a week.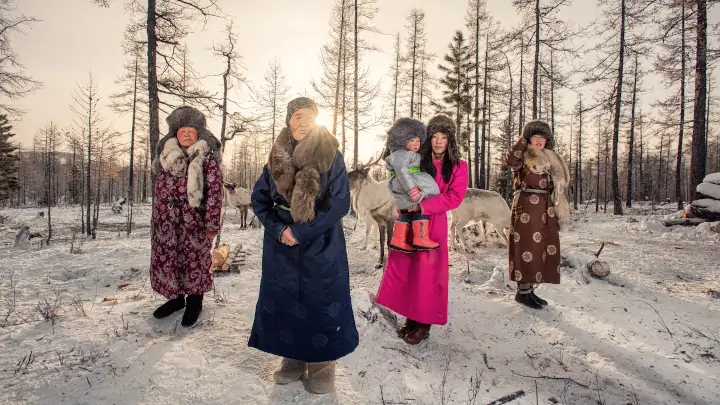 Mongolia
The people of Mongolia observe their own Spring Festival called Tsagaan Sar, where they take some time off to visit relatives and honour their deities. Although largely similar in intent with other Lunar New Year celebrations, Tsagaan Sar is deeply steeped in Mongolian culture, from the food to the various rituals being performed.
For example, on the first day of Tsagaan Sar, families will wake up before dawn and dress up in their nicest clothes, before walking in directions as prescribed by the zodiac, so as to start the new year auspiciously. Afterwards, the men will proceed to climb the nearest mountain or hill to see the first sunrise of the year, while the women prepare tea as religious offerings.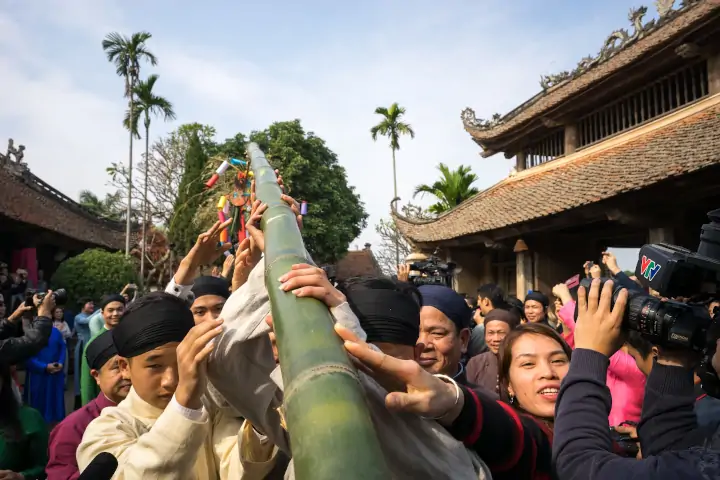 Vietnam
Vietnam celebrates their version of the Spring Festival called Tết, and is likewise centered around family reunions, meeting up with friends and visiting temples to obtain blessings. Everyone is dressed in vibrant colours during the celebrations, with red being the most common and eye-catching one.
Besides the wide variety of traditional dishes available during Tết, another unique feature is the setting up and decoration of 'neu trees'. Essentially tall poles of bamboo, these are raised at the final leg of preparations and draped with all manner of scrolls, charms and amulets to ward off evil spirits. The neu tree is so important that each bamboo pole is selected with utmost care.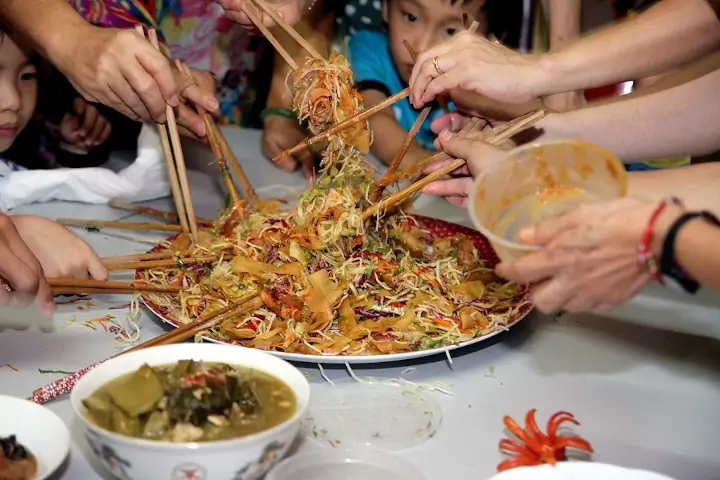 Singapore
The Chinese community in Singapore celebrate Chinese New Year in a manner similar to those in China. Family gatherings, temple visits and exchanging red packets are the norm. Even so, these traditions have seen some changes that can be considered wholly unique.
For example, a single unique dish stands out as mandatory for reunion dinners: Yusheng, or Yee Sang. A cold dish comprising fresh raw fish, pickled vegetables and crispy crackers, the dish is traditionally assembled before the diners with well wishes uttered upon the introduction of each ingredient. Then, everyone picks up their chopsticks and tosses the contents. Not only does it help to mix them all well into a delightful flavour, it also brings good luck - the higher one tosses, the luckier they'll be!
---
We hope you enjoyed this brief introduction to Lunar New Year celebrations around the world! It's certainly interesting to see that most of these traditions are quite similar, especially for those observing Chinese New Year in China, South-east Asia, or anywhere else with a vibrant Chinese community. That's no surprise, considering that Chinese culture and tradition have existed for thousands of years, and have spread to all four corners of the world at this point.
Want to immerse yourself further in Chinese culture? Check out our three-part video series in which our Chinese Specialists at Geniebook, Carolyn and Terry, guide you on the pronunciation and meaning of some festive idioms for the Year of the Tiger.
From all of us at Geniebook, here's wishing you a happy and prosperous New Year!