Which secondary school should your child pick?
03 November 2023
This secondary school, or that secondary school, that is the question. Choosing the right secondary school for your child is a significant decision that parents have to mull over for a while once the results are tentatively released between 22 to 24 November - that's not too far away!
How do we submit our secondary school choices?
Upon the release of the PSLE results, the S1 Option Form will be made available online here (click on the S1-IS link there) where you can subsequently help your child submit their secondary school choices. You may also do this via your child's primary school.
You and your child will need to sit down together and list down 6 secondary school choices in order of preference.
Do note that tie-breakers will be used if there are two or more students with the same PSLE score vying for the last available spot(s) in a particular school. Check out the different types of tie-breakers in the diagram below.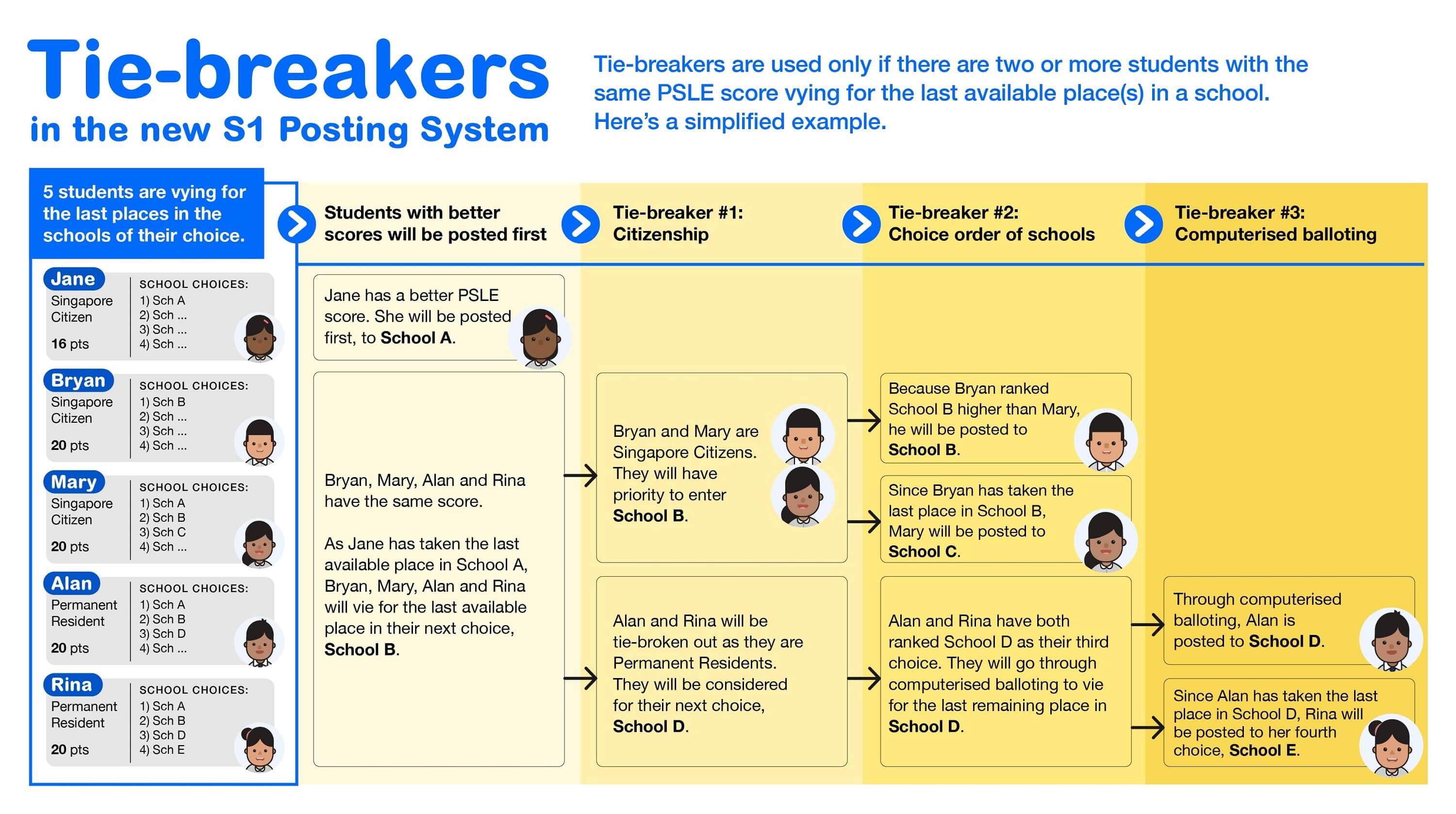 Source: MOE
Here is a guide to MOE's S1 internet system - start familiarising yourselves with it beforehand!
What should I look out for beyond academics?
With so many options to choose from, selecting one school that best suits your child's needs and aspirations can be a daunting task. Here are some factors you can consider beyond academics to help decide where your child should go next.
1. Consider your child's needs and interests
Consider your child's academic strengths, interests, and learning styles. Take into account their hobbies, extracurricular activities, and aspirations. Some schools may offer specialised programs in sports, arts, or other fields, which can cater to your child's passions and talents!
Explore some of the schools that can match your child's learning pace, as well as whether they have any opportunities and programmes to further develop their strengths and interests.
2. Proximity to home
The location of the school is a big consideration for many parents. A school that is closer to your home can reduce travel time significantly and make the daily routine more manageable. Shorter commutes can also allow for more family time and reduced stress for both you and your child. To take it a step further, you can also explore the transportation options around your child's potential school choices and figure out how long it takes to and fro your house.
3. School culture and values
The culture and values of a school play a crucial role in shaping your child's character and overall development. Visit the school's website and even check out their open houses to have a better understanding of their culture and environment. You can also choose to talk to parents around you who previously enrolled their child in that school (if available) to gain a deeper insight into the school's culture and values.
4. Co-curricular activities (CCAs)
CCAs will be an integral part of your child's education that provide opportunities for their personal growth and skill development. Research the school's CCA offerings, such as sports, arts, clubs, community service, and more. Consider searching for schools that align with your child's interests so they can provide a well-rounded education through their CCAs.
The bottom line
Choosing the right secondary school is a decision that can greatly impact your child's future. By considering the aforementioned factors, you can make an informed decision that best serves your child's educational journey. Remember that this is a time-sensitive process, so start researching early and explore all your options to ensure your child receives the best possible education and support for their growth and development!