Geniebook: The future of e-learning, explained
04 January 2022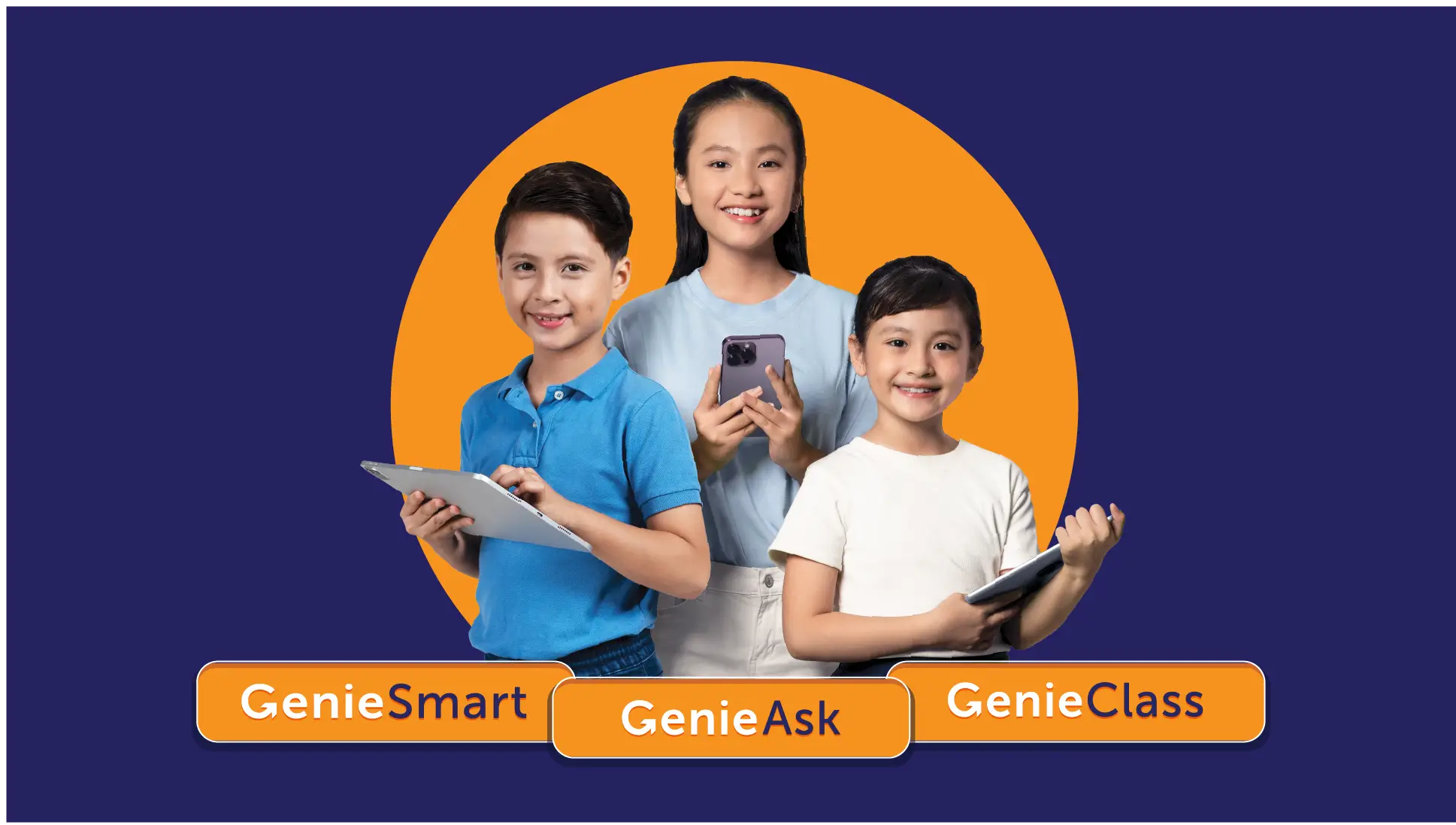 Students today are no longer strangers to online learning. What began as an uncharted territory has now become a levelled playing field, spurred by the widespread adoption of learning from home.
But when lessons are held outside the physical confines of a classroom with teachers only visible on a computer screen, how do parents like you ensure that their children receive the best education available while keeping up with their progress?
Enter Geniebook. Founded in 2017 by passionate educators determined to fuse education and technology to deliver a truly personalised learning experience to every student, our core belief is that education is a uniquely personal journey. Today, Geniebook is used by over 150,000 happy users.
Just what is Geniebook, exactly?
At its core, Geniebook is a powerful suite of three learning products designed to accelerate your child's learning.
GenieSmart: Using proprietary algorithms jointly developed with ASTAR and patented for use in education, our flagship product is an AI-personalised worksheet generator that constantly evaluates your child's strengths and weaknesses, and delivers customised assignments to help improve their understanding of the syllabus. As they complete more worksheets, GenieSmart customises questions to reinforce their understanding of English, Maths and Science, helping them to improve quicker with targeted practice and revision.
GenieClass: Live or pre-recorded online classes packed with engaging demonstrations and experiments based on the current syllabus, taught by our enthusiastic teachers previously from MOE and with teaching experience from notable schools. With over 40 classes scheduled every week, your child can attend enriching lessons from the comfort of their home.
GenieAsk: A social learning platform comprising communities of 50 students, GenieAsk allows your child to connect with our teachers and seek help for specific levels and subjects from 3 to 9 PM on weekdays. Ask questions, get study tips and participate in weekly activities with fellow students in an educational experience that encourages proactive learning.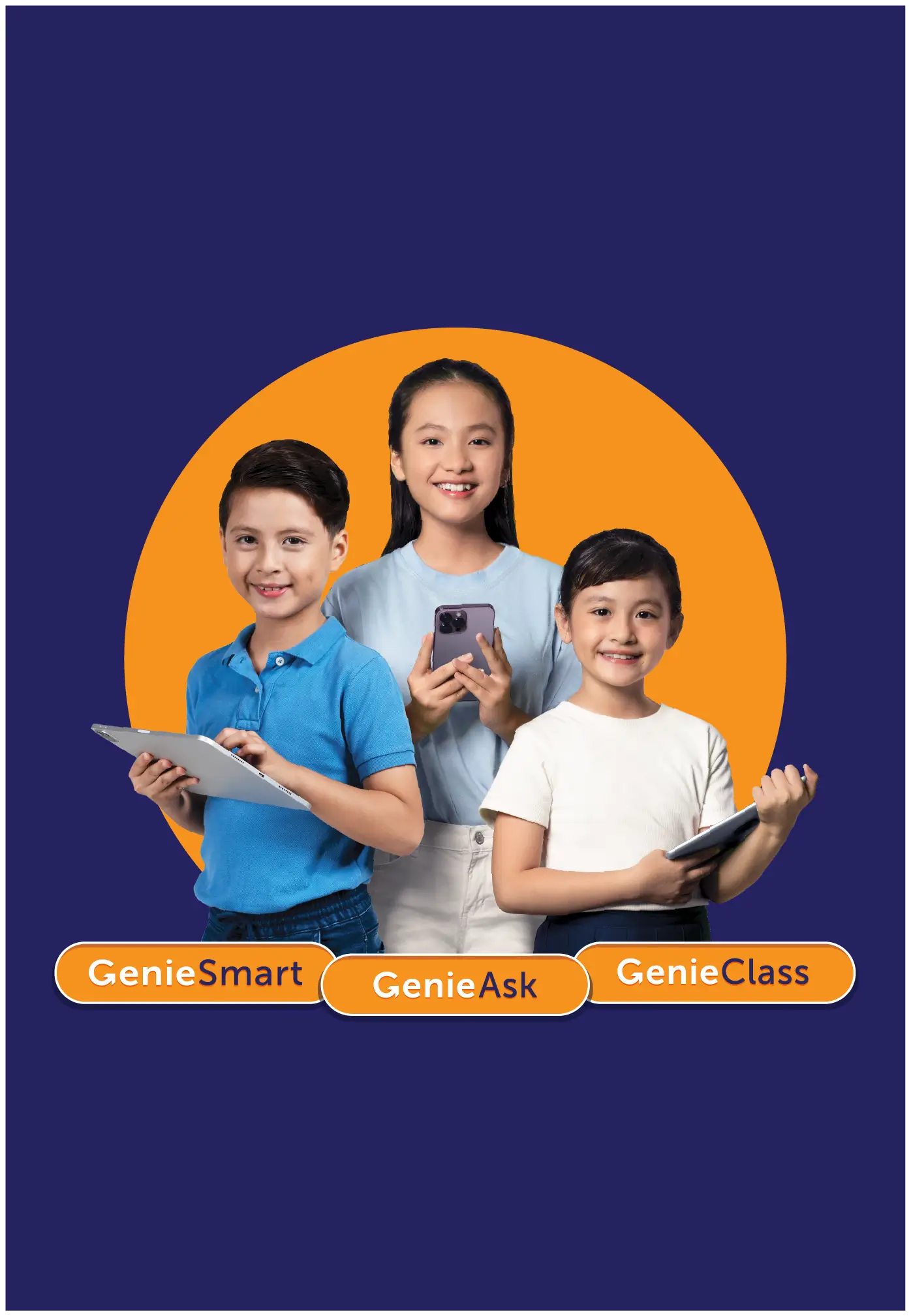 Our Core Philosophy: Learn Smarter, Do Better
We believe that everyone should be given the best chance to learn, according to their individual strengths and capabilities. To that end, our three products are created to help guide students in improving their understanding of their subjects at a pace most suited to them.
GenieSmart encourages students to master each subject by calibrating worksheet questions according to their proficiency in each topic. GenieClass endeavours to provide valuable, engaging classes taught by capable teachers that can be accessed anywhere in the world. Finally, GenieAsk grants access to our teachers that are always willing to assist with various school topics, allowing your child the opportunity to study alongside fellow students eager to improve themselves. Together, these features make up an unstoppable flywheel of improvement.
Bubble Rewards: A great way to encourage learning
Who doesn't like a reward after some hard work? With our Bubble rewards, your child will get to experience a great feeling of accomplishment!
Bubbles are tokens that we reward our students with when they complete Geniebook worksheets, answer questions that our teachers posed in GenieClass correctly or participate in fun educational activities in GenieAsk. These can be redeemed for popular kid-safe items at the Bubble Store, from school accessories to digital media products.
Results Matter
Geniebook has proven itself to be a positive force for education. In fact, data analysis by our data science team has revealed that 90% of our students displayed marked improvements in their grades after completing eight worksheets!
Here's what parents and students have to say about their experience with Geniebook:
"My kids can do revision on-to-go without having to lug assessment books all over the place. The automated self-marking and analysis of weak areas are very useful and time-saving features for me too." - Joanna, Parent

"So glad that my boy signed up for Geniebook. He enjoys doing his work online and getting the teacher's feedback without having to leave the house. Very responsive teachers." - Cecillia, Parent

"I enjoy using Geniebook! For maths, I improved [my score] by 26.5 marks, from AL6 (CA1) to AL3 (SA1 and Prelim). Thank you Geniebook :D" - Yuxuan, Student
Get to know us better
We're always eager to help new students find the joy in learning. If you're looking for a boost to your child's education (and maybe even try to improve on their school grades), there's no better way to do it than with us at Geniebook.
Want to know more about us? Feel free to find out more about our products, get to know our teachers better, or just ask us for a demo.
Get a complimentary Strengths Analysis for your child here