6 Unexpected ways online learning benefits children
28 July 2021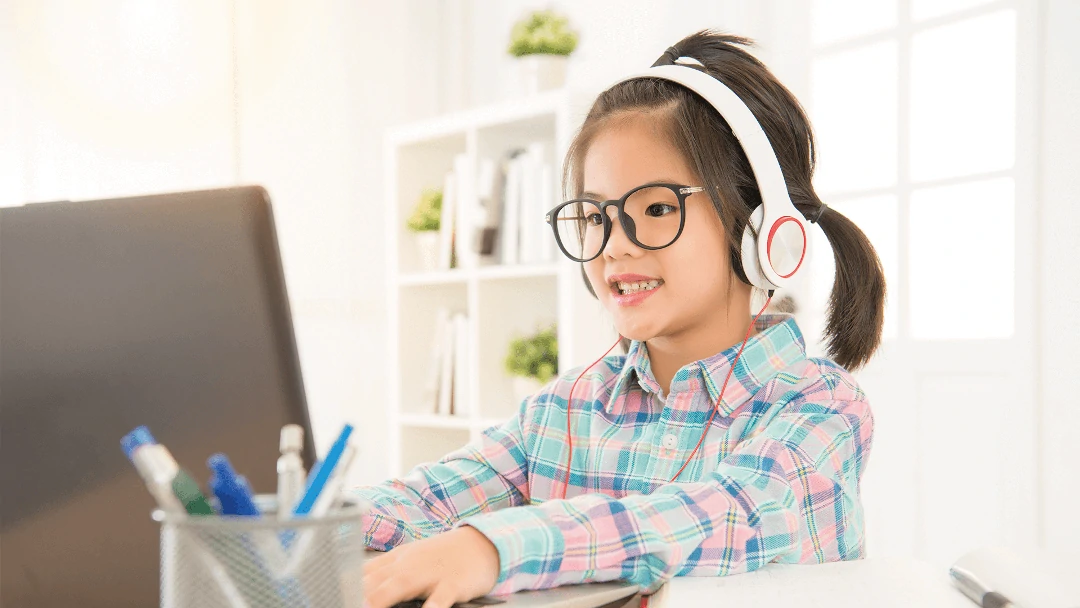 Benefits to online learning
2020 brought about a shift in the way our children learn. With the arrival of an unprecedented pandemic, schools across the world had to scramble to find ways to take learning online, while ensuring the quality of teaching remained consistent. Digital platforms became the new go-to classrooms, and learning as we knew it was revamped as the world went into lockdown. Online worksheets and classes, Home-Based Learning (HBL), and blended learning became some of the most-searched terms on Google.
Parents who were once unsure about taking learning online, are warming up to the idea of helping their child learn online. So, what is it about online learning that's transforming the way students learn - not just as an alternative or supplement to more traditional methods, but also fundamentally as a new way to learn in an increasingly digital economy?
Use Artificial Intelligence to enhance learning
The biggest advantage of online learning is the ability to incorporate Machine Learning into how students learn.
Platforms such as Geniebook tap into Artificial Intelligence technology to understand the students' abilities. Strengths and weaknesses are swiftly identified with proprietary algorithms to give each student the opportunity to attempt online worksheets (at Geniebook, this is a system we call GenieSmart) on topics that they need more attention on. With focused step-by-step solutions and online classes that are conducted by experienced teachers, targeted help is never too far away.
Because of online learning, students now have access to personalised learning resources, and even more importantly, make rapid, targeted progress.
There is no downtime to learning
There is an incredible amount of flexibility that online learning offers. When and where your child learns is entirely up to them as they learn at their own pace and complete tasks on their own time. All they need to do is check out when the live classes are happening, and they can plan their schedule around it.
Even when students can't make the lessons as they happen , the classes are usually recorded so they can refer to it at any time. This works even if they simply need to revisit topics, such as for revisions before a test. Students are empowered to take charge of their learning and hit the pause button when they need a little more time to digest any info.
Surprisingly lively & engaging classes
As all interactions happen online, teachers are challenged to deliver content in a more engaging way.
Everyone's focus dwindles after a while - even us adults. We'll find our attention wavering 40 minutes into a video conference, what more the children with their wandering focus. Using all the newly-unlocked possibilities that technology has to offer, teachers add lively demos, fun quizzes and even animations that keep students enthusiastic about learning – more so than in a traditional classroom.
Students can feel the enthusiasm and passion from the comforts of their own home. In fact, research suggests that online learning has been shown to increase the retention of information. On average, students retain 25-60% more material when learning online compared to only 8-10% in a traditional classroom setting.
Data-backed insights into your child's progress
Progress checks whenever you need them is a major bonus when it comes to online learning. Technology has made it possible that you no longer need to wait to get updates as a parent. From how your child is doing in area and perimeter to how strong their adjectives are, you will get real-time updates.
You can instantly check how your child is doing on the go with the information available right at your fingertips. It's also easier to prepare for any major exams by mapping in the needed revisions, supported with insights into your child's strengths and weaknesses.
See how learning can be gamified
Gaming and learning are not mutually exclusive. In gaming, positive reinforcements like badges and bonus life points keep gamers excited to continue progressing to the next stages. It's not totally different when it comes to learning. Well-designed rewards can mirror the ones children are familiar with on their gaming platforms, and encourage students to improve.
At Geniebook, we utilise our Bubble Store, which rewards students with bubbles every time they complete worksheets or participate in the demos and quizzes in GenieClass or GenieAsk.
These bubbles can be exchanged for thousands of fun kid-safe toys and items on the Bubble Store. Just like a gamer's scoreboard, we have a leaderboard updated LIVE with the number of bubbles students earned. With their competitive sides unlocked, students become more determined to compete and be the best.
Getting your child more comfortable with tech
The pandemic has forced not just students but all of us to get a little savvier with tech. Along with social distancing, we are also seeking new ways to connect, mostly through video chat.
We find ourselves going online for professional upgrade courses, for activities like yoga and even baking classes! Attending a Zoom call is such a part of our everyday lives now that 2019 us would be surprised. We are now more dependent on products and services that allow us to work and learn from home.
The way we learn looks set to change fundamentally. If this is to be the way we learn in future, then a new generation of young learners today are already benefiting with an amazing head start through online lessons, live chats, and personalised ways to improve through AI.
Online learning has truly opened up a world of opportunities. EduTech companies like Geniebook, are pushing the limits and expanding possibilities of what's possible online. We are inspired to make online learning normal more effective for users beyond grades; we can do more to encourage problem-solving skills, critical-thinking abilities and adaptability - vital in this new knowledge economy.
Experienced online educators are developing innovative pedagogical approaches in this pandemic to remake learning, blending the best of technology with proven learning methods. Students (and their parents) learning in these unprecedented times also have a chance to embrace change and participate in these exciting new ways of learning that's personalised, energised and insightful. It's a brand new learning experience. Join us - you are invited.