Nicer, better, faster, smarter: New Geniebook improvements now available
16 June 2023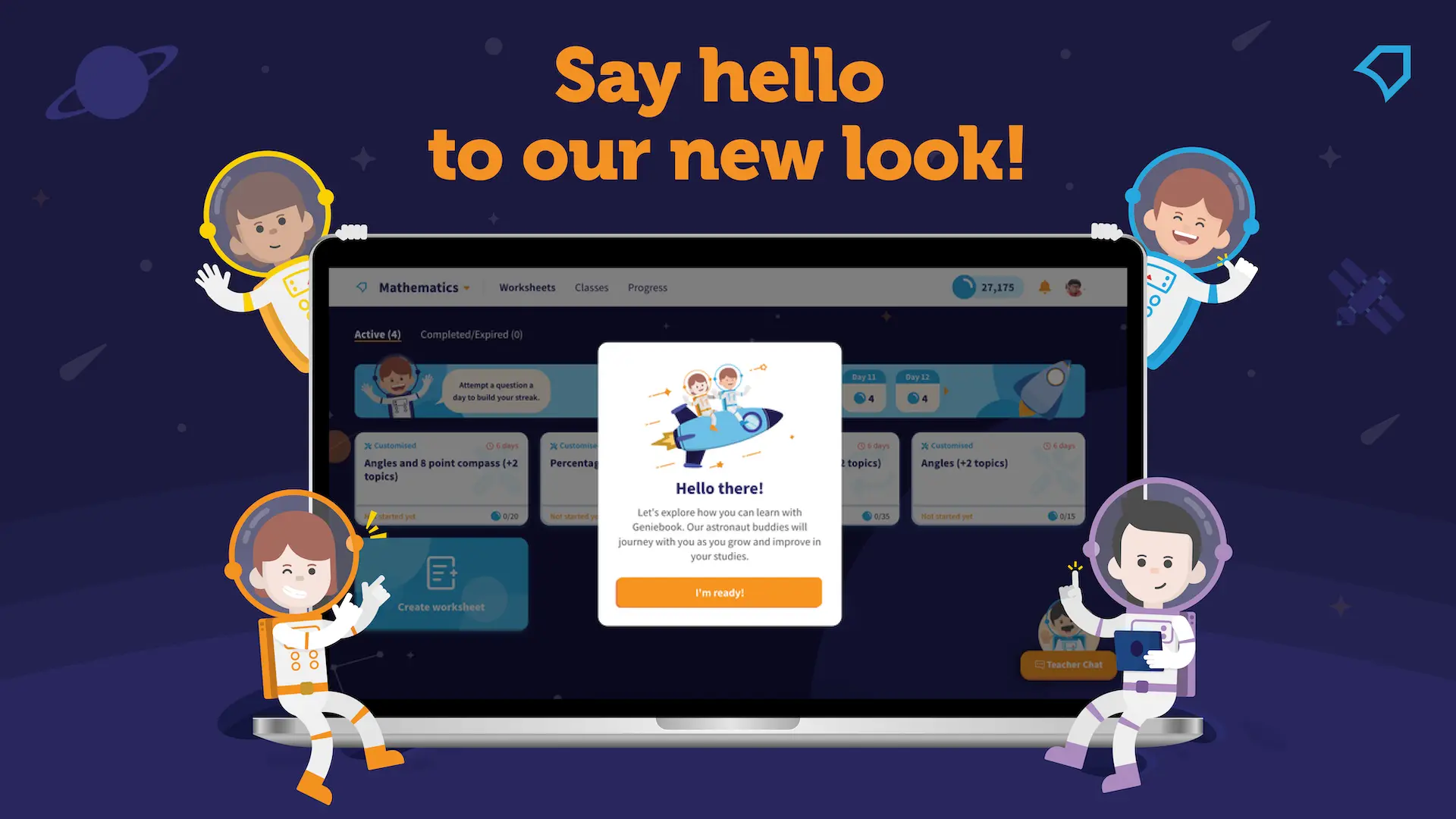 Sometimes, it just takes a change in environment to regain the inspiration to learn. If that's the case, our students in Geniebook are in for a treat as we've just given the Geniebook app a brand-new facelift!
Besides giving a fresh new look to the Geniebook app, we've also made upgrades to the AI that oversees your child's learning and implemented a new skills system that can measure their mastery of every subject and topic they're enrolled in.
Read on to find out more!
Accelerating learning to infinity and…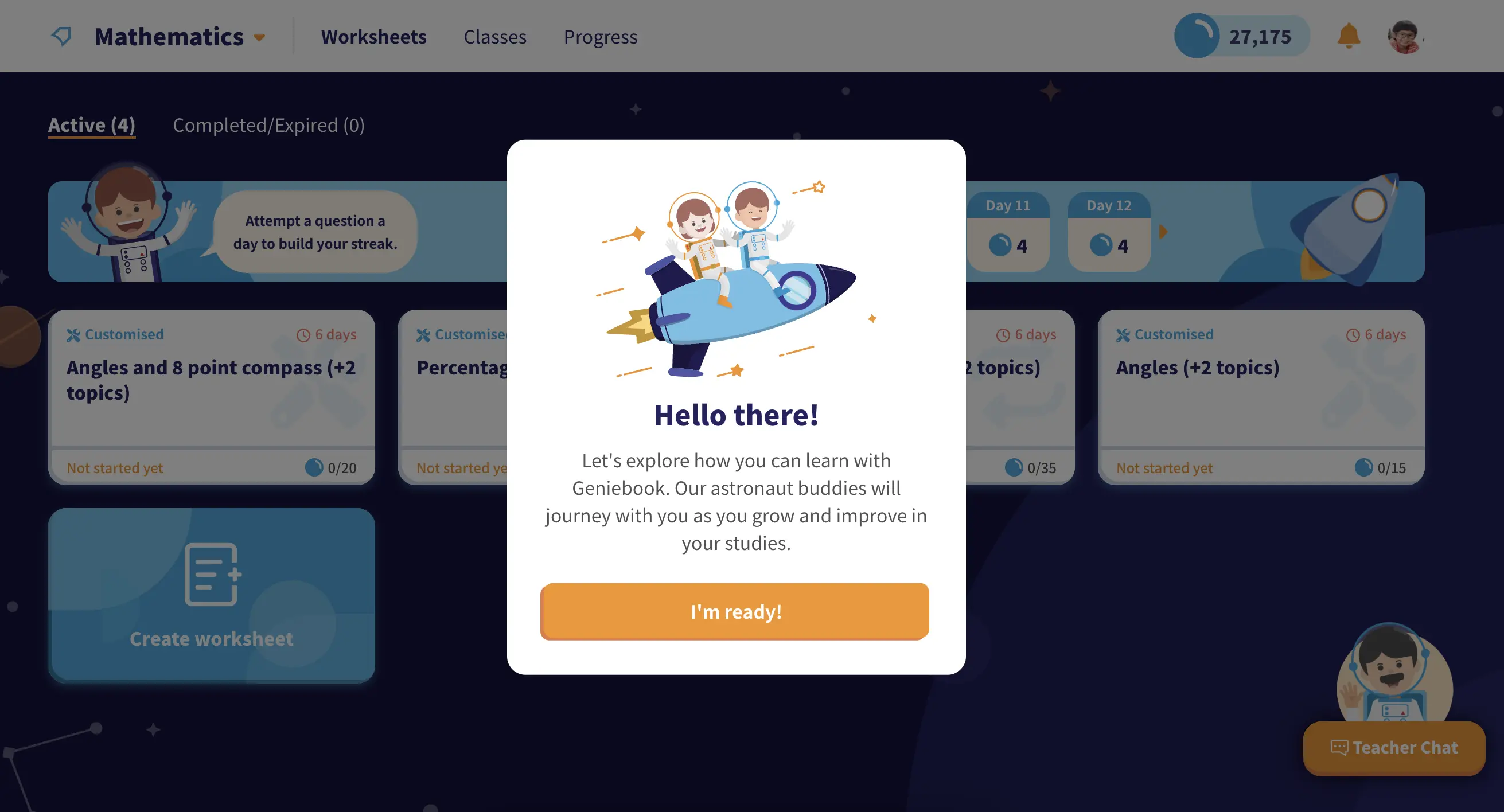 Prepare to take your child's learning to the next level with our new themed decor. Introduced earlier this month, the Geniebook app now features an all-new space-themed user interface that serves to inspire a sense of wonder in your child as they learn.
Beyond upgraded graphics and eye-catching aesthetics, the revamp also comes with practical benefits - the darker colour scheme serves to reduce eye strain from prolonged usage in the evenings, the perfect accompaniment to an improved user interface that's carefully designed to serve up information as quickly as possible. We've also made a whole slew of improvements to user experience, too: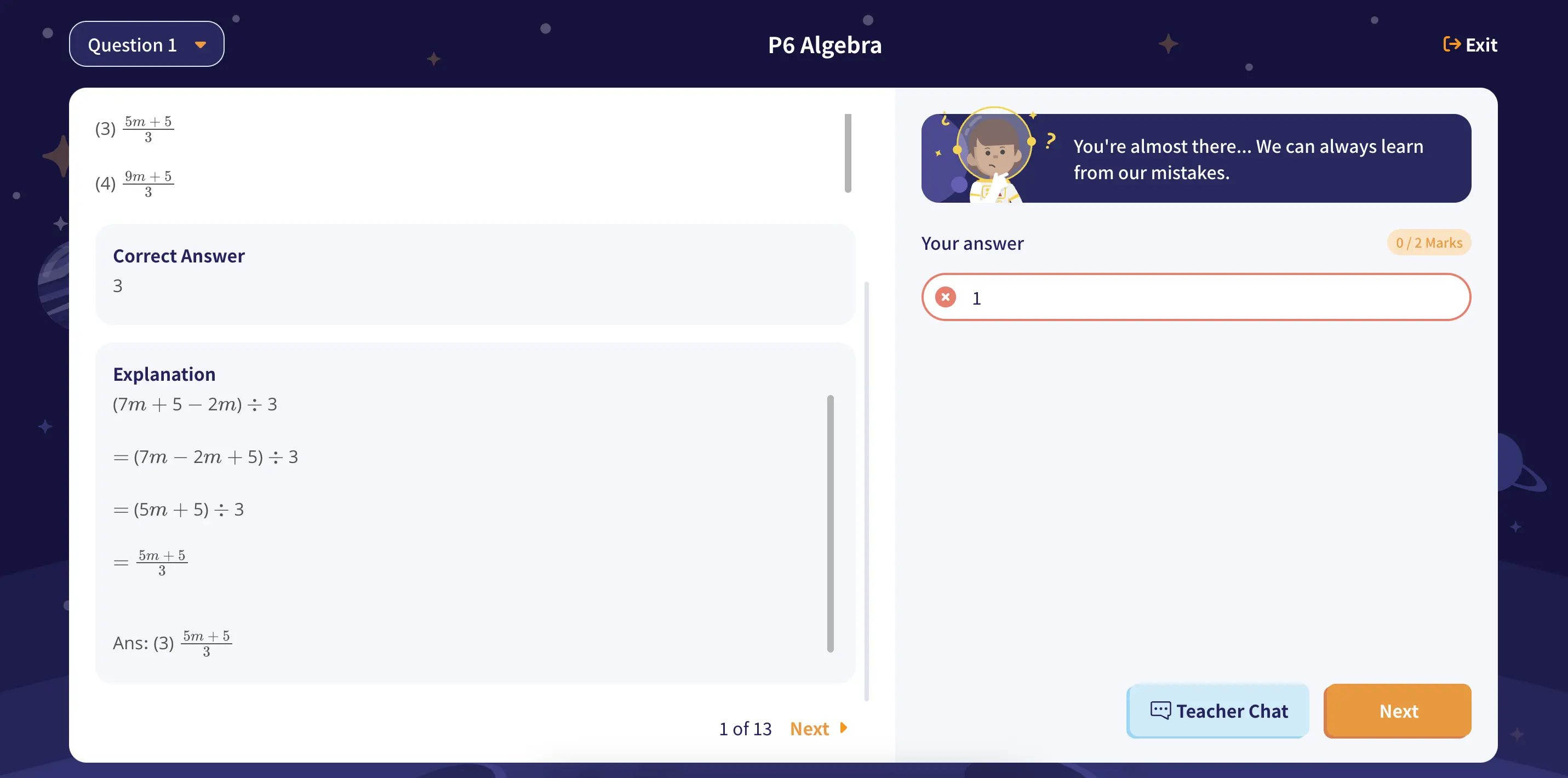 Starter worksheets and constant encouragement
"Master worksheets" are now appropriately renamed to "Starter worksheets", as it's the first worksheet new students attempt in GenieSmart!
But first worksheet or not, everyone can do with a little encouragement when questions get tough. That's where our new astronaut buddies come in - celebrating small wins and offering quick pep talks when things become challenging. With quotes like "Don't give up" and "Let's tackle this topic together", we'll help your child to persevere and continue learning through ups and downs.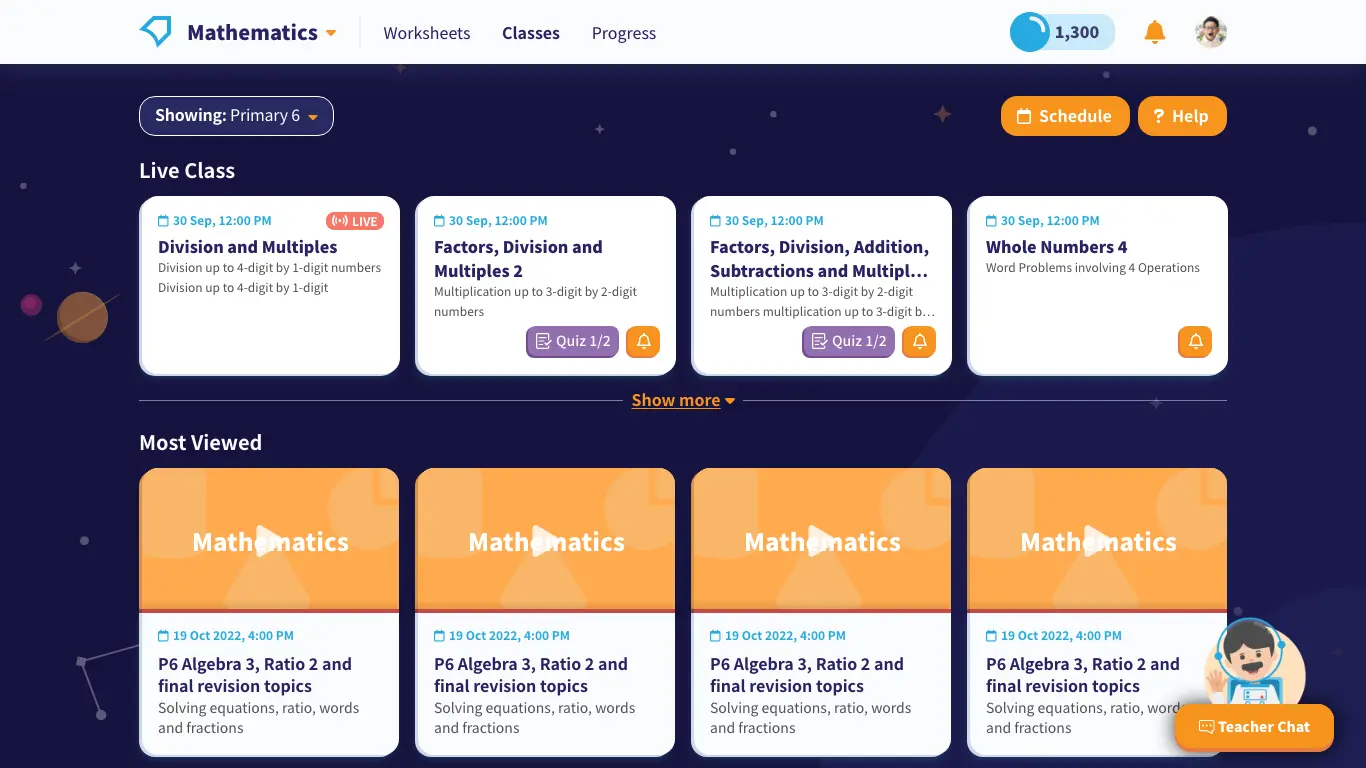 Check out what everyone's watching in GenieClass
Not sure which topics to start learning about? We're introducing a "Most Viewed" section to help your child see what topics are trending among fellow students. Besides that, more interactive features lie in store with our live classes - don't miss the chance to experience them!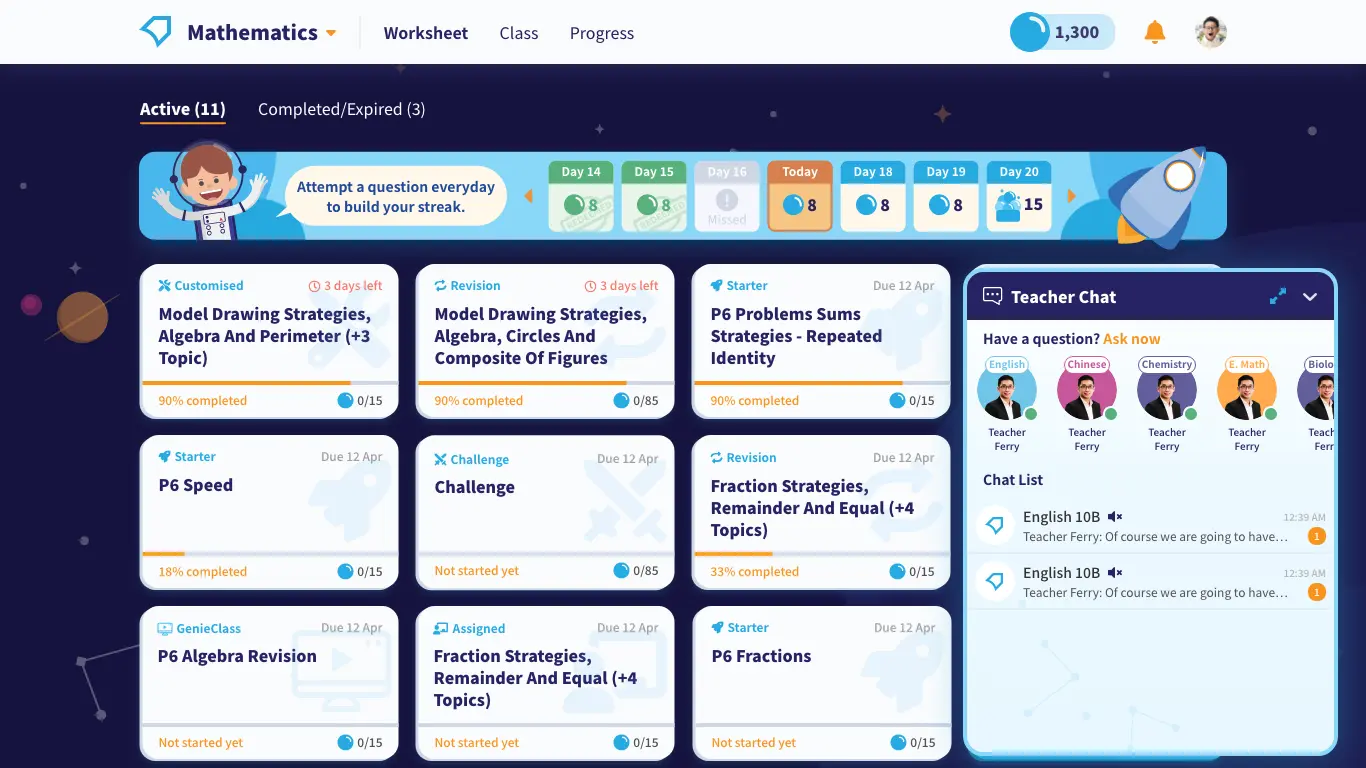 [Coming soon] Easier ways to privately message a teacher
We understand that school questions can get difficult and confusing, so we're making help more accessible for your child. With just a click of a button, they will be able to message a teacher privately. Wonder no more whether a teacher is online or not - the online/offline statuses next to each teacher's profile will tell you whether the teacher is available at the moment.
Other works in progress
We'll be discontinuing the monthly leaderboard, weekly progress and challenge a friend features for now, with plans to further upgrade them. We'll let you know when they return!
A smarter, better virtual teacher
Improvements and upgrades are being made all the time in the world of EdTech, and Geniebook is no different. Today, we're excited to reveal a significant new upgrade that we've worked hard on for some time: the AI recommender. This release will be implemented for a select group of students at first, with a gradual rollout to follow for the rest of our subscribers.
Utilising new algorithms developed in-house, the AI recommender uses almost one million data points in its database to build a complete profile of your child's academic progress and uses it to deliver highly personalised guidance, optimised for maximum benefit. Think of a helpful virtual assistant that knows exactly what your child needs to do to improve their grades - that's the AI recommender in a nutshell.
Here's a quick overview of what our AI recommender can do for you and your child:
Remembers the mistakes your child made
With dozens of assignments a week, it can be hard to keep track of your child's improvement. Geniebook does the job for you by keeping a record of your child's progress and testing their understanding in biweekly revision worksheets.
Picks the most effective questions set from our database of 300,000 questions
Worried about your child's level of understanding in their subjects? Think they need extra help with Chemical Bonding? Our AI evaluates your child's proficiency in each topic, works behind the scenes to simulate thousands of question sets, and picks the ones that best help your child learn and improve.
Chooses the topics for you when you're not sure what to focus on
Unfamiliar with your child's syllabus? Not sure what they should practise this week? With the "recommend topics for me" feature under Customised worksheets, our AI will select the topics and questions for them, all in just a click of a button.
Gets you proven results in the exams
The AI recommender score prediction model has a proven correlation to students' exam scores. But instead of spending three hours on tests spanning the entire exam syllabus, we make learning more efficient by only giving you the questions that best help you to see improvements in scores.
Know your skills
One side benefit of the new AI recommender is that we're now able to quantify your child's performance even more accurately - down to the last subject and topic! That's why we've also implemented a new Skills System to allow you even more visibility over your child's mastery.
Launching with a gradual rollout starting with a selection of students as well, the Skills System manifests in the form of a Progress page, where your child will be able to view a complete list of topics and the corresponding mastery score for each of them. This list will also be headlined by an overall mastery score for the entire subject, so your child can view their progress at a glance.
How does it work?
Your child will be given a skill score from 1 and 10 for each topic that they've learned, to capture your child's performance, with 1 being the lowest and 10 the highest. The higher your child's skill levels, the more proficient they are in that subject/topic.
Why skill levels, not scores?
Unlike percentage scores, skill levels take into account the difficulty of questions, making it a more accurate measure of your child's proficiency. Skill levels also allow our AI to tailor the best level of difficulty of questions relative to your child's proficiency; the higher their skill, the greater exposure to tougher questions. This ensures that the questions recommended are not too easy or boring for your child, and not too difficult nor discouraging to complete!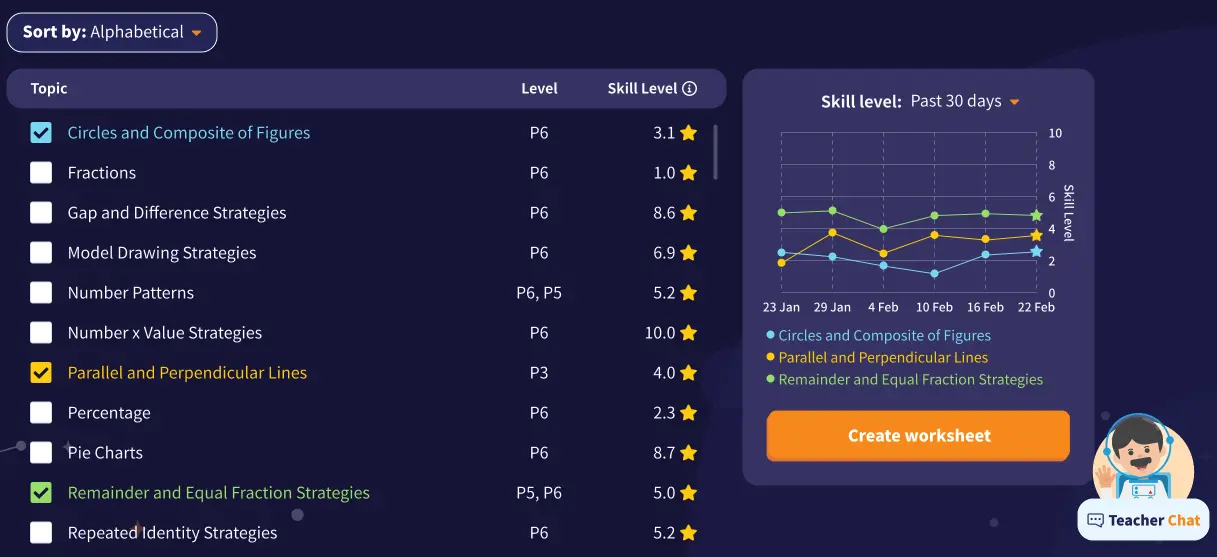 Looking at data across thousands of students, Geniebook's skill levels have shown good correlation with actual exam results, making it an excellent benchmark for measuring student performance.
Check out the improvements now
We're glad to finally let our students experience the all new interface, improved AI recommender and the Skills System which we've been hard at work on for the past year.
If your child is a current subscriber, please log in and try it out for yourself, and let us know your thoughts! If you're still on the fence about whether Geniebook is right for you and your child, we highly recommend reaching out to us for a complimentary Strengths Analysis assessment and a chance to try the Geniebook app in person.