Achievement unlocked: Geniebook's new badges feature
03 August 2022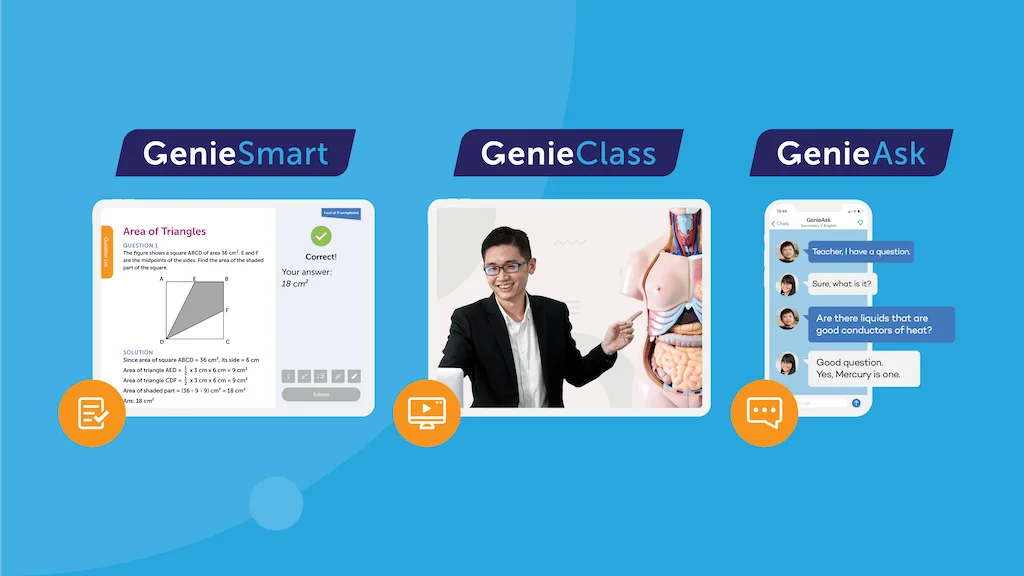 The motivation to learn comes from many sources. For some, it could be rewarding themselves with some precious leisure time after attending a lesson on GenieClass, or redeeming their hard-earned bubbles for their favourite item in the Bubble Store when they finally complete their last GenieSmart worksheet for the week.
Today, we're unveiling a whole new way to inspire our students to learn smarter and do better in Geniebook: Badges!
What are badges?
Badges are special awards that celebrate a student's milestones and achievements as they continue to learn with Geniebook. Besides acknowledging a student's good performance, these achievements also reward their effort, improving their morale and encouraging them to keep trying.
Students collect badges in several different ways, such as attempting questions in GenieSmart or attending live GenieClasses. Each badge has its own unique design and challenge; it's like a treasure hunt, only even more educational!
When a student fulfils a badge's requirement, they will be awarded that badge and a notification pop-up will appear to congratulate them. Once they earn a badge, it will never be removed from their profile.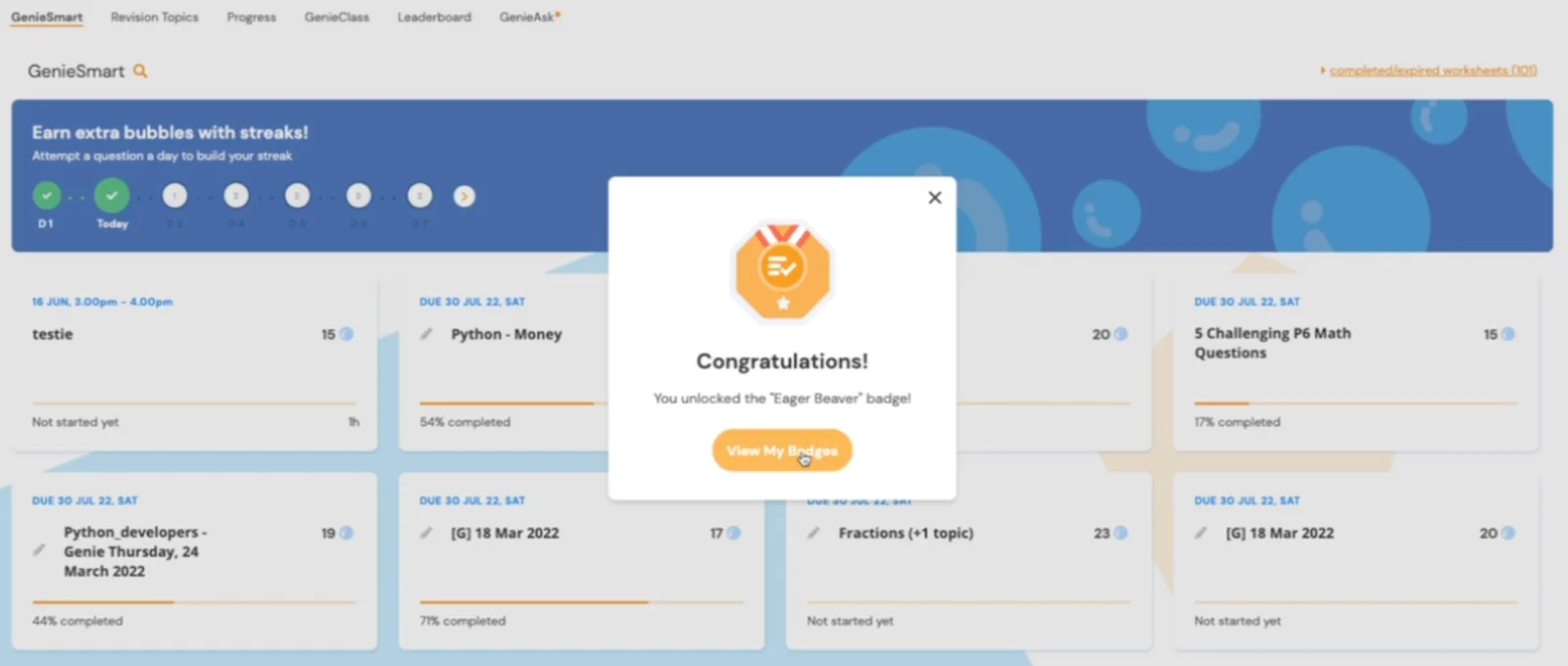 Badges are specially meant to acknowledge each student's achievements; they are therefore not transferable, and are not redeemable for other rewards.
Badge unlock requirements
Interested to learn how many cool badges there are and what a student needs to do to get them? Here's the current list of available ones along with their requirements:
The Eager Beaver badge rewards students for tackling questions, even if they don't always get it right. Attempt 20 questions in GenieSmart to get this badge!

The Motivated badge encourages students to complete their worksheets and submit them for marking. Challenge your child to complete 10 worksheets in GenieSmart to unlock the badge!

The Perfect Pupil badge rewards students who consistently perform and achieve stellar results. Achieve a 100% in one worksheet to score this badge!

The Quiz Pro badge is given to students who consistently ace the quizzes in GenieClass live lessons. Achieve 100% in 4 live lessons quizzes to unlock the badge!

The Bubble Starter badge acknowledges students' hard work with the accumulation and redemption of bubbles. Spend 1,000 bubbles in the bubble store to get the badge!
Where to find your child's badges
You can find the badges attained by your child by accessing their Profile, and tapping on Badges.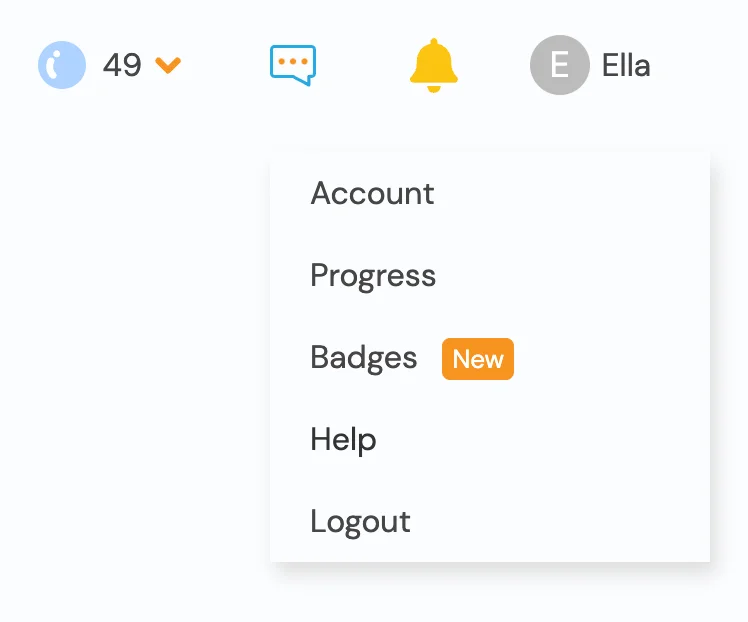 There, you can also view the full list of badges available for them to unlock, as well as their current progress for each of them.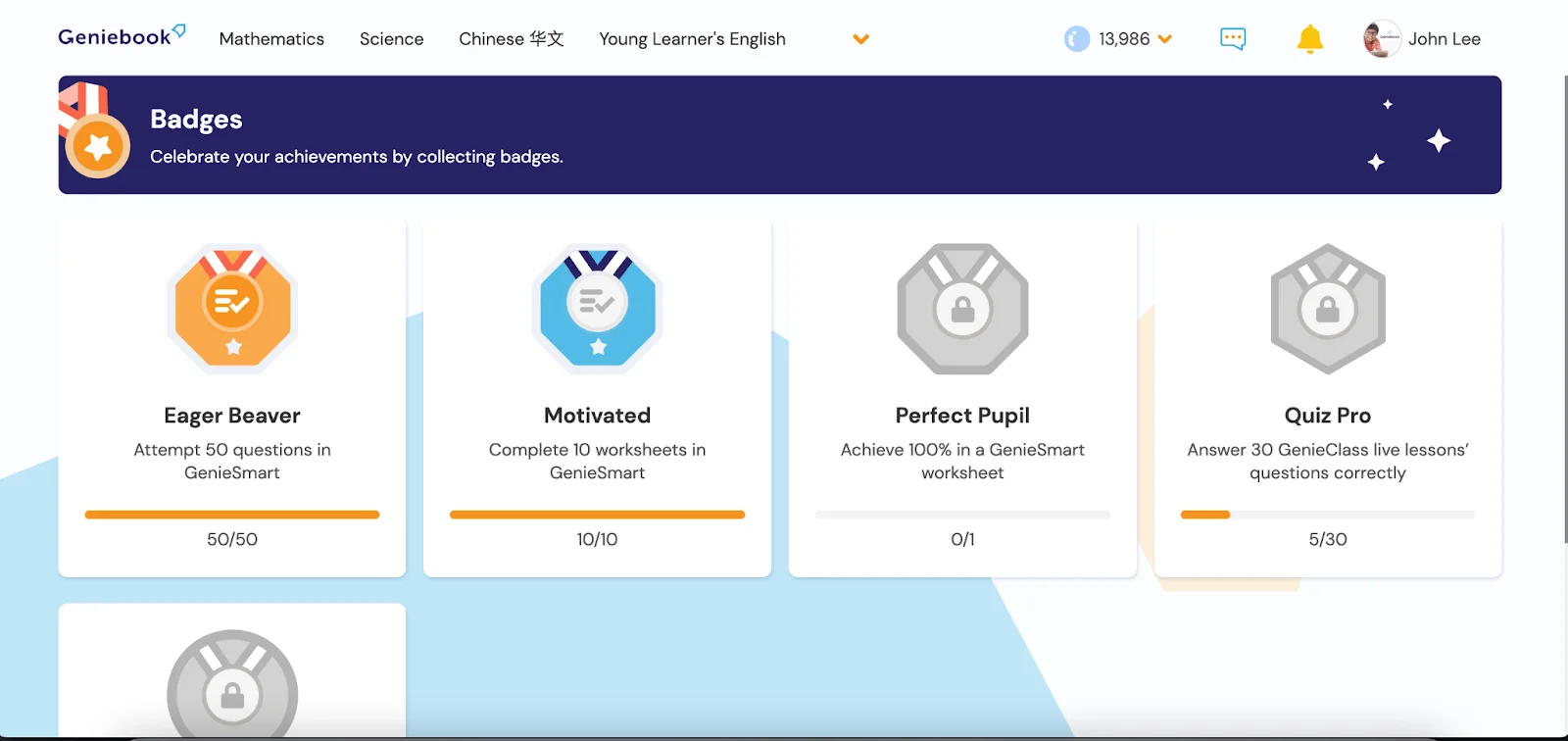 More badges on the way!
We're on a mission to add even more badges and challenges to Geniebook so that your child can expand their badge collection and share their achievements with family and friends.
For now, stay tuned, and let's start earning those badges!