How Geniebook prepares primary students for PSLE
How Geniebook prepares primary students for PSLE
Most parents look for one or more of these factors when looking for a tuition for their child:
A proven record of improving students' grades
Time spent commuting
Quality of classes and worksheets
Teacher's qualifications
Class timings and flexibility to re-attend a missed class
The child's comfort level with the pace of learning
Let's take a look at how Geniebook addresses each of these concerns. Next, we'll also do a brief comparison between Geniebook and traditional tuition. If you'd like to skip directly to that section, you can do so by clicking on this link.
1. Proven record of improving student's grades
We usually look for tuition for our children because we believe they can improve their grades with the right kind of guidance, or because we are not particularly knowledgeable about some sujects and we want our kids to learn from an expert.
At Geniebook, we have a suite of online learning tools that have been designed to help each child improve over time.
Here's how.
✅ Your child can attend over 100 live and recorded classes,
✅ Chat with subject experts to get their doubts cleared, and
✅ Solve worksheets that have been customised by artificial intelligence.
In fact, 80% of students who join Geniebook show marked improvement after solving just 8 worksheets. But you don't take our word for it. Parents can monitor their child's improvement - broken down by how they are doing in each topic - in the Geniebook parents' app.
2. Time spent commuting
Geniebook classes are 100% online, so your child can attend from anywhere and solve worksheets at their convenience.
But while online tuition classes, like Geniebook, have a major advantage in that parents don't have to worry about class timings and distance, many worry that since everything is online, their child may lose focus or not participate in classes, or worse, just log on and not pay any attention to what's being taught.
So, to make sure that your child pays attention in classes, is attentive, and becomes self-motivated to solve worksheets and improve their grades, we've introduced a unique "Bubble" program. It's specially designed to encourage children to participate and start to enjoy their learning journey. When students ask questions, interact with teachers, and solve worksheets correctly and on time, they earn "Bubbles" which they can use to buy real-life toys and stationery.
3. Quality of classes and worksheets
Geniebook's classes and worksheets can be praised to the skies, but what really proves their quality is when parents and students who have subscribed can say that they have seen marked improvements.
Let's look at some reviews our subscribers have left for us:
"Geniebook has so far been the best online tuition! It gives great feedback on how to improve my answers, provides amazing solutions to problems, and also has fun and engaging teachers. It really helped a lot with my studies. I can really see an improvement bit by bit! Thank you, Geniebook!"
"This is the best online tuition platform we've tried. My child is taking Math and Science with Geniebook. The worksheets are tailored to my child's strengths and weaknesses. Online classes were engaging. We like! Thank you Geniebook!"
...we have many more reviews, you can check them out here.
4. Teacher's qualifications
All of our teachers have experience teaching MOE-approved curriculum. Most of them also have prior experience teaching in public schools. Here is a sample class for Primary 3 Fractions that you can watch to see how Geniebook teachers conduct our online classes.
5. Class timings and flexibility to re-attend a missed class
Geniebook's teachers conduct over 100+ live classes a week. So, your child can attend the classes at a time that's convenient to their schedule. You can check out our class schedule here.
That's not all, if a student wants to clarify a doubt or revisit a lesson, they have full access to all of the recorded classes at a later date.
6. The child's comfort level with the pace of learning
Unlike in a school or traditional tuition, where the pace of learning is adjusted to meet the needs of the entire class, learning at Geniebook is tailored to your child's specific learning needs.
So, if your child is weak in one topic, he or she can attend classes, solve worksheets, and basically focus their efforts on that particular topic. This means that the entire learning programme will be centred on your child's unique strengths and weaknesses, ensuring that they improve with each passing week.
Now that we have covered all basics, let's look at some ways Geniebook is different from traditional tuition.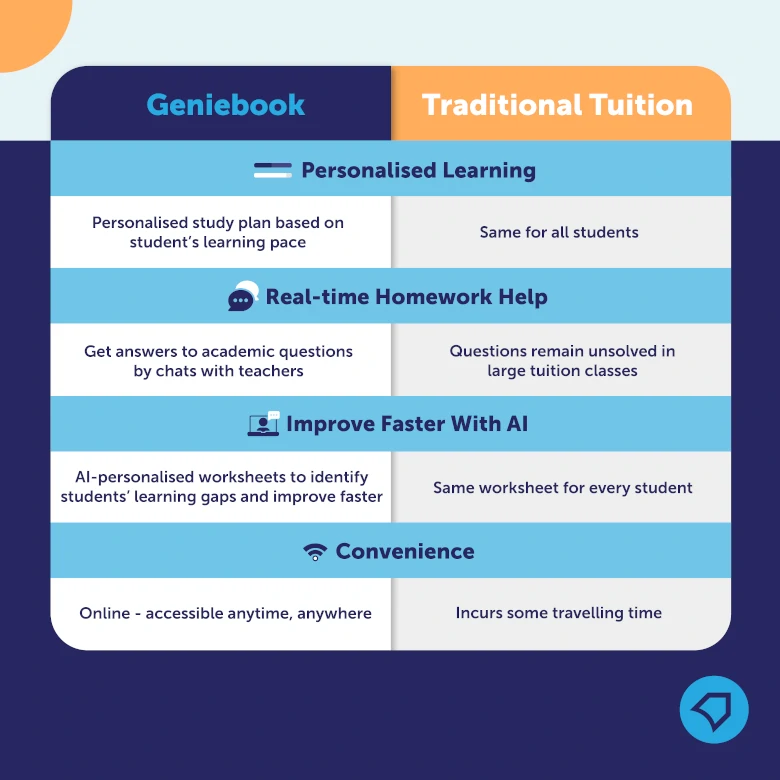 If you liked reading this article, we recommend reading How e-learning is revolutionising the way we learn next!
---
Copy URL
https://geniebook.com/exam-preparation/psle/article/how-geniebook-prepares-primary-students-psle